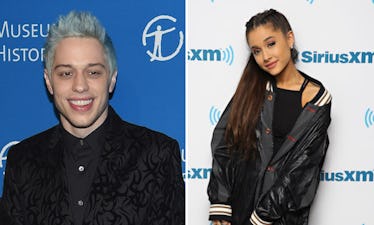 Pete Davidson Blocked Ariana Grande On Instagram, Apparently, Which Is A Huge Bummer
Dimitrios Kambouris/Getty Images Entertainment/Getty Images & Cindy Ord/Getty Images Entertainment/Getty Images
The Great Pete Davidson/Ariana Grande Saga of 2018 continues. Unfortunately, the two celebrities have had a bumpy go of things ever since they announced their highly publicized engagement was off. Grande spun lemons into lemonade by writing her break-up anthem "Thank U, Next," which directly references her relationship with Davidson. She is also busy reaping the benefits of the incredible music video that goes with it. Meanwhile, Davidson wrote an emotionally charged message on Instagram stating he's being bullied online. Now, reports also say Pete Davidson blocked Ariana Grande on Instagram even despite her attempts to calm the haters. Oof.
On Monday, Dec. 3, Davidson posted a long note to fans and followers regarding the harassment he's received on social media and his ongoing journey with his Borderline Personality Disorder diagnosis. In his statement, Davidson said, "I'm trying to understand how when something happens to a guy the whole entire world just trashes him without any facts or frame of reference." He added,
I've spoken about BPD and being suicidal publicly only in the hopes that it will help bring awareness and help kids like myself who don't want to be on this earth. I just want you guys to know. No matter how hard the internet or anyone tries to make me kill myself. I won't. I'm upset I even have to say this.
In response, Grande took a screenshot of Davidson's post and wrote her own thoughts next to it in her Instagram stories. She included the message, "I really don't endorse anything but forgiveness and positivity. I care deeply about Pete and his health. I'm asking you to please be gentler with others, even on the internet... I will always have irrevocable love for him..."
Grande also apparently sent a very similar note in a DM to one fan where she added, "I haven't seen any of it because I'm blocked but I want you to know that I would never want or encourage that ever and you should know that."
The fan posted a screenshot of the convo on Twitter with the caption, "there's nothing left to say..." and Grande commented on the tweet directly. She simply left a black heart, seemingly confirming that the message shown was written by her and that she did say she has been blocked by Davidson.
Fans cannot confirm on their own if Davidson truly blocked his ex-fiancé, but they can see he has officially stopped following her. In doing a quick search, it appears she has unfollowed him as well.
Hopefully, time will continue to heal this wound for everyone. Fans are sticking close by Grande's side hoping for more insight into her past relationships and current feelings towards love and relationships, which she is almost certain to deliver in her upcoming music. Davidson remains a player on Saturday Night Live where fans are probably low-key tuning in to see if he'll address his breakup on Weekend Update.
In the meantime, everyone take a page out of both Grande and Davidson's book and remember to be kind to yourselves and each other!
If you or someone you know are experiencing suicidal thoughts, call 911, or call the National Suicide Prevention Hotline at 1-800-273-8255.