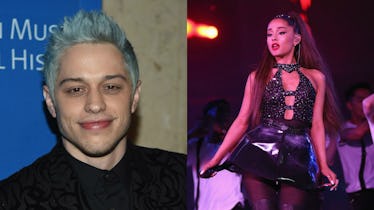 Ariana Grande Low-Key Showed Support For Pete Davidson After His Statement About Bullying
Dimitrios Kambouris/Getty Images Entertainment/Getty Images; Rich Polk/Getty Images Entertainment/Getty Images
Pete Davidson recently opened up in a raw and emotional post on Instagram about all the negative attention he's been receiving in the wake of his breakup with Ariana Grande and her subsequent music video for "Thank U, Next," that explicitly addresses their breakup. He admitted in his post that he's basically been getting bullied online for the last nine months, and OMG internet, that is just not OK. This is a real, live human being we are talking about here. I really commend him for going public with his heartbreaking story. Meanwhile, it looks like the "Thank U, Next" singer isn't here for the toxic way her ex is being treated either, because Ariana Grande's reaction to Pete Davidson's Instagram about bullying is subtly supportive, even though she didn't explicitly say a word.
Here's what happened. First, the SNL star took to his Insta feed on Dec. 3 to open up about all the comments he's been receiving and the effect it's all had on his mental health.
"I've kept my mouth shut," he wrote in his emotional post. "Never mentioned any names, never said a word about anyone or anything. I'm trying to understand how when something happens to a guy the whole entire world just trashes him without any facts or fame of reference."
"I've been getting online bullied and in public for 9 months," he continued. "I've spoken about BPD [Borderline Personality Disorder] and being suicidal publicly only in the hopes that it will help bring awareness and help kids like myself who don't want to be on this earth. I just want you guys to know. No matter how hard the internet or anyone tries to make me kill myself. I won't. I'm upset I even have to say this. To all those holding me down and seeing this for what it is — I see you and I love you."
Wow. It actually hurts my heart to think about the way that he's been treated, but Davidson's words are so very powerful. And while it's really sad that the comedian even had to post something like this in the first place, I'm glad he chose to speak out about what's been going on, because I think his strength and honesty here are absolutely amazing.
I'm pretty sure Ari does, too. Because after one of her fan accounts tweeted out a defense of Davidson — "LEAVE PETE DAVIDSON ALONE !!!" — the popstar showed up for her former fiancé by liking the tweet:
A bunch of other celebrities also showed up in the comment section of Pete's Instagram post to show their support and let him know that he's loved.
"Sending you love Pete," wrote Emily Ratajkowski.
"Love you my g," added The Mick's Griffin Gluck.
And from Queer Eye's Tan France came this all-caps reply: "LOVE YOU, MATE. TRULY, STAY STRONG."
Pete, you are a true mental-health warrior. Never stop fighting!
If you or someone you know are experiencing suicidal thoughts, call 911, or call the National Suicide Prevention Hotline at 1-800-273-8255.