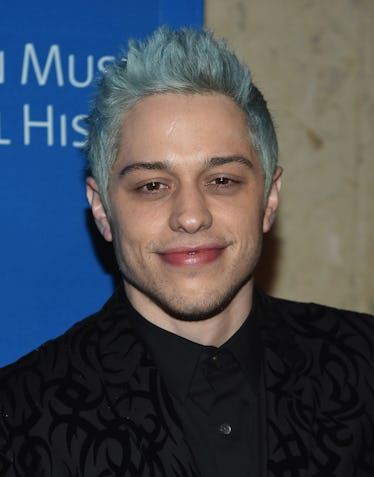 Pete Davidson Posted A Serious Statement After Ariana Grande's "Thank U, Next" Video
Dimitrios Kambouris/Getty Images Entertainment/Getty Images
Pete Davidson is getting personal on social media following his breakup with ex-fiancé, Ariana Grande, and her subsequent "Thank U, Next" music video that heavily alludes to their relationship and breakup. On Monday, Dec. 3, the Saturday Night Live comedian took to Instagram to post an important message about being bullied following his famous relationship and split. Pete Davidson's statement after Ariana Grande's "Thank U, Next" video is emotionally charged and so poignant for a lot of reasons, and fans are taking it all in. Elite Daily reached out to both Davidson and Grande's teams for comment, but did not hear back by the time of publication.
If you somehow missed it, here is the drive-by on Grande and Davidson's relationship: The two announced they were dating in June 2018 just weeks after they both ended previous relationships. Grande formerly dated late rapper Mac Miller and Davidson was dating Cazzie David. By the end of the month, Grande and Davidson confirmed their engagement. But after a few months of matching tattoos, pet pigs, and tons and tons of PDA, the engagement was off. Reports confirmed the couple's split by October 2018. Just like that.
During this time, Davidson hopped on and off of Instagram thanks to trolls who wouldn't leave him alone. Eventually, he restored a handful of old posts. Currently, you can see 31 posts beginning with a picture of his Hillary Clinton tattoo from December 2017.
Meanwhile, Grande's "Thank U, Next" music video is rapidly gaining likes and views. In just three days, the YouTube video gained nearly 93 million views. That's awesome for Grande, but perhaps less-so for Davidson who is casually mentioned in both the lyrics and music video footage. Grande now-iconically mentions her ex-fiancé in the opening lyrics, singing the words, "Even almost got married / And for Pete, I'm so thankful..."
Oof.
To throw salt on what I imagine is a pretty open wound for Davidson, Grande included a picture of herself and Davidson in her "Thank U, Next" music-video burn book with the message, "sry I dipped" next to a heart with his name in it.
It's unclear if Davidson knew about this in advance, but it makes me wince regardless.
Now, he's getting vocal on Instagram about all the particularly negative attention and comments he's been receiving and how it's affecting him. His emotional post includes statements about his BDP (Borderline Personality Disorder) diagnosis and suicidal thoughts. It's not clear who or what he is addressing specifically, but his powerful message about the dangers of online bullying rings through.
He opens by stating, "I'm trying to understand how when something happens to a guy the whole entire world just trashes him without any facts or frame of reference." According to Davidson, he's been getting bullied online and in public for the past nine months. He explained,
I've spoken about BPD and being suicidal publicly only in the hopes that it will help bring awareness and help kids like myself who don't want to be on this earth. I just want you guys to know. No matter how hard the internet or anyone tries to make me kill myself. I won't. I'm upset I even have to say this.
Davidson concludes with the note: "To all those holding me down and seeing this for what it is — I see you and I love you."
He captioned the post with a blue heart.
The post is receiving loads of positive comments and support from his fans and has gained nearly 300,000 likes in just one hour. As of publication, there has been no direct comment or response from Grande, though she did like a tweet that exclaimed, "LEAVE PETE DAVIDSON ALONE !!!"
If you or someone you know are experiencing suicidal thoughts, call 911, or call the National Suicide Prevention Hotline at 1-800-273-8255.