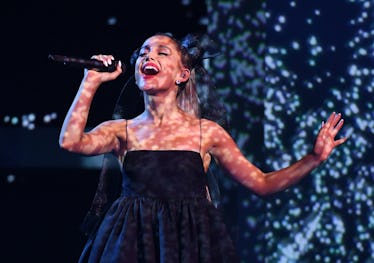 Fans On Twitter Are Losing It Over Ariana Grande's Video For "Thank U, Next"
Ethan Miller/Getty Images Entertainment/Getty Images
Ariana Grande has just released her music video for her new single "Thank U, Next," and trust me when I say that it's epic! If you haven't seen it yet, here's what I can tell you: It's basically one long tribute to all the romantic comedy films that made the 2000s so amazing. When I say rom-coms, I mean films like Mean Girls, Legally Blonde, 13 Going on 30, and Bring It On. You know, all the classics! And fans are literally going wild over it. Just wait until you see all the tweets about Ariana Grande's "Thank U, Next" music video.
Grande has been teasing her rom-com tribute plans for the video on social media for a little while now, even telling a fan she'd be using some of her "personal faves" in the video. And now that the video is finally here, all the Arianators out there can confirm how amazing it is!
In the video, Grande basically cycles through a handful of classic rom-coms, playing main characters like Regina George (Mean Girls), Torrance Shipman (Bring It On), Elle Woods (Legally Blonde), and Jenna Rink (Jennifer Garner). And she does it with such finesse, style, and ease that fans are eating it up!
Not to mention that the visuals in the video go perfectly with the lyrics. Just as a refresher, here are some of the lyrics:
Thought I'd end up with Sean / But he wasn't a match / Wrote some songs about Ricky / Now I listen and laugh / Even almost got married / And for Pete, I'm so thankful / Wish I could say, "Thank you" to Malcolm / 'Cause he was an angel
One taught me love / One taught me patience / And one taught me pain / Now, I'm so amazing / I've loved and I've lost / But that's not what I see / So, look what I got / Look what you taught me / And for that, I say
And it's stuff like that that has fans brimming with total excitement over how incredible this video is. Here's how some fans are reacting on Twitter right now:
You'll remember that a few weeks back, Grande posted a sneak peek at a new haircut that seemed to show a shorter bob look. Well, now we know the reason why. She did it to look more like Jenna Rink in the 13 Going On 30 scenes!
Needless to say, most of the Arianators in the world are loving this video.
By and large, the video is a hit. And Grande even included some famous faces in the the video. She actually teased a few of them on social media recently. Like Jennifer Coolidge from Legally Blonde and Kris Jenner as Joan Grande as Mrs. George. (You'll have to watch it to know what I mean!)
Amazing, right? Grande is definitely making the kind of content everyone wants to see and the video for "Thank U, Next" fits right in. Love it!