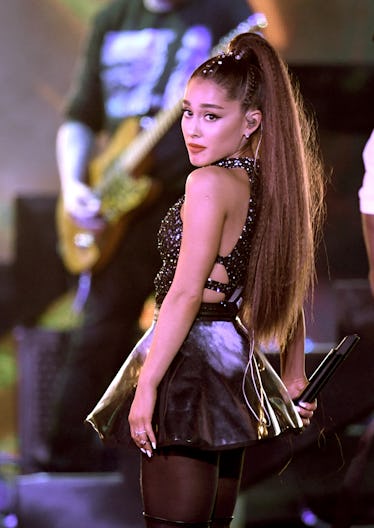 Ariana Grande Chopped Her Hair Off, So Prepare To Be Wowed By How Gorgeous It Looks
Kevin Winter/Getty Images Entertainment/Getty Images
Ariana Grande is sporting a new haircut! After years of donning a high, long ponytail, Grande has given herself a bit of a makeover. The 25-year-old singer is now sporting a long bob that looks amazing and gives her a fresh new look. Ariana Grande's new haircut was revealed in an Instagram post and, as expected, her fans are going wild over how she looks.
Grande posted the photo of her new haircut on Thursday, Nov. 15. The photo, which includes a bunny face filter, shows Grande sitting in a car, tilting her head forward, and showing off her new look. Grande captioned the post with a humorous comment about the filter she used.
"This filter took my eyebrows away but i promise they're there," Grande wrote. Her eyebrows are, in fact, there. They just happen to be faded a little bit.
Grande's new haircut comes at what seems to be a period of transition for her. After breaking up with Pete Davidson, to whom she was engaged for several months, Grande seems just about ready to move on from what's been a difficult year. In addition to the breakdown of her relationship with Davidson, Grande has also been grappling with the death of her ex-boyfriend Mac Miller, who died in early September.
Not to mention that the holidays are right around the corner and as that can often be a period of reflection for many people, it's easy to see why Grande might've felt she needed a change. And change is always good, especially if you're looking toward a brighter future as Grande seems to be doing at the moment.
If you haven't seen Grande's long bob just yet, have a look at her latest selfie down below:
It's funny that Grande would cut her hair at this time, actually, since she and Camila Cabello recently had an exchange about hairstyles. In a Nov. 4 tweet, Cabello tweeted Grande to ask her how she manages to constantly keep her hair in those high ponytails she's so famous for.
"I just did a high ponytail for the first time and it is literally pulling on my BRAIN ITS SO PAINFUL HOW DO YOU DO IT @ArianaGrande," Cabello tweeted.
Not long after, Grande provided a rather humorous response. "Well u actually have hair so that prolly makes it a lil more painful ..... nah jk i'm in constant pain always and don't care at all," she wrote.
Maybe Grande reconsidered her hairdo after having this exchange with Cabello. Or maybe she was just ready for a change. Whatever the case, Grande looks amazing as usual. And her fans are loving her new look just as much as she is.
After Grande posted her haircut selfie, fans took to the comments to express how much they love her new hair.
"AHHH THIS IS THE CUTEST THING I'VE EVER SEEN, LIKE YOU ARE SO CUTE WITH THE HAIR," one fan wrote.
Another fan called her a queen (because she is!). "Beauty queen, this looks so good on you ✨," the fan wrote.
Clearly, Grande's new haircut is a hit with just about everyone. Wouldn't surprise me one bit if literally everyone started sporting long bobs because of this!