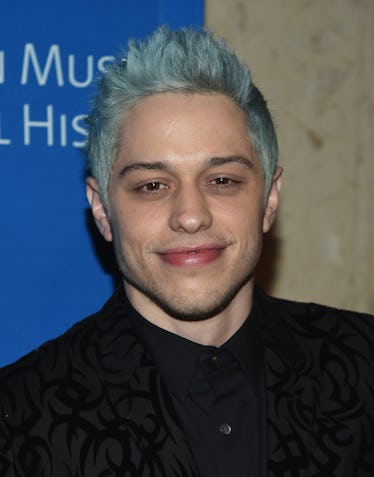 Pete Davidson Just Posted His First Instagram Since His Breakup With Ariana Grande
Dimitrios Kambouris/Getty Images Entertainment/Getty Images
Pete Davidson's using Instagram once again! If you've been following Davidson closely over the last few months, then you know he's been pretty much MIA from the social media platform, save for a few posts here and there. And once he and Ariana Grande broke off their engagement in mid-October 2018, Davidson wiped his Instagram slate clean once more. But now he's back at it. Pete Davidson's first Instagram since breaking up with Ariana Grande is actually super exciting.
In his Instagram post, Davidson shared some stills from his film Big Time Adolescence, which is scheduled to screen at Sundance Film Festival in 2019. In the caption of the post, Davidson shared the exciting news.
"See you at sundance muthf*ckas 😎," Davidson wrote. Clearly, he's thrilled to be going to Sundance and he should be. It's a huge honor for a film to be selected to screen at Sundance, so I'm sure Davidson is super proud!
Big Time Adolescence follows the story of a suburban teen who falls under the influence of his best friend, a college dropout. In addition to Davidson, the cast includes Griffin Gluck, Jon Cryer, Sydney Sweeney, Emily Arlook, and Colson Baker.
Here's a look at Davidson's latest Instagram post:
The film will be screening in the festival's Dramatic Competition which, according to Entertainment Weekly, "offers Festivalgoers a first look at groundbreaking new voices in American independent film."
In a press release published in part by Entertainment Weekly, festival director John Cooper explained how films are selected for Sundance.
"These films and artists tell the truth," Cooper said in the press release. "Whether documentaries that illuminate hidden histories or fiction features that spotlight diverse, human experiences, this year's slate is layered, intense and authentic."
And Executive Director of Sundance Institute Keri Putnam said that putting a spotlight on the films screening at Sundance, including Davidson's film Big Time Adolescence, is "urgent and crucial."
"Focusing a bright light on these independent stories is urgent and crucial, especially in the noise of today's globalized media landscape," she said. "Voices from many places and perspectives, often shut out of the mainstream, offer us new insights. It's immensely heartening to see these bold visions and their tellers thriving."
Big Time Adolescence is one of 112 films screening at Sundance. The selected films were chosen from over 14 thousand submissions from over 150 countries. And among those films, there's a lot of diversity. Entertainment Weekly reports that "40 percent were directed by one or more women, 36 percent were directed by one or more filmmakers of color, and 13 percent were directed by one or more LGBTQIA-identifying filmmakers."
So, Davidson's film is in good, diverse company. Even legendary actor Robert Redford thinks so.
"This year's Festival is full of storytellers who offer challenges, questions and entertainment," Redford said of the 2019 Sundance lineup. Redford is president and founder of the Sundance Institute. "In telling their stories, they make difficult decisions in the pursuit of truth and art; culture reaps the reward."
Needless to say, Big Time Adolescence is going to be screening alongside some incredible films and that's definitely something to be proud of, as Davidson seems to be. So, while his romance with Grande didn't work out, it seems like his professional endeavors are taking him to new heights which is so exciting! Congrats Pete!