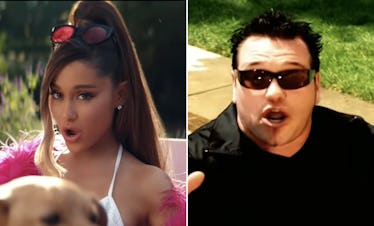 This Mashup Of Ariana Grande's "Thank U, Next" & Smash Mouth's "All Star" Is Nostalgia Gold
YouTube
You guys probably don't need this mashup of Ariana Grande's "Thank U, Next" and Smash Mouth's "All Star," but the internet doesn't care. It's here to emphatically pump out cheesy nostalgia gold without anyone's approval and shove it in your face, especially when you aren't looking for it. That's the case with this jumble of the current pop-tacular hit and middle school anthem. God bless (or curse) the internet.
As you, I, and everyone's mom know, Grande finally premiered her "Thank U, Next" music video after drumming up incredible hype for its debut. The music video is a walk down memory lane as Grande embodies iconic roles from teen movie classics like Mean Girls, Bring It On, 13 Going On 30, and Legally Blonde. The song gained loads of attention when it was first released as just an audio track thanks to Grande's now infamous mentioning of her previous boyfriends.
If you're really, really behind, the opening lyrics reference Grande's ex-boyfriends Big Sean, Ricky Alvarez, Mac Miller, and Pete Davidson. She sings,
Thought I'd end up with SeanBut he wasn't a match / Wrote some songs about Ricky / Now I listen and laugh / Even almost got married / And for Pete, I'm so thankful / Wish I could say, "Thank you" to Malcolm / 'Cause he was an angel
Meanwhile, the internet was over here like, "'Scuse me. Aren't you missing something?"
Enter Smash Mouth's frontman, Steve Harwell.
Sure, Harwell and Grande likely had nothing to do with their big hits being fused together, but it's funny to think about them conspiring, anyway.
On Sunday, Dec. 2, Twitter user @jamesnielssen released the polarizing video which combines Grande's melody and Harwell's singing. (I don't know. Can we call it singing?) Nielssen's Twitter bio states: "i make videos and music." Using my context clues, it's likely he's the very one behind the mashup's existence, especially because if you scroll through his feed you'll see he brings "All Star" into play a lot.
Nielssen shared the video with the caption, "just in case you need to ruin a social gathering sometime."
And he's exactly right. The beat will never leave your head nor will the part in "All Star" when Harwell goes, "We could all use a little... chaaaaaange! Well!"
Without further ado:
Annoying, hilarious, catchy, omnipresent — all of these words could apply to the video. Grande hasn't responded or anything, but I bet her ponytail is picking up on the mashup's vibration anyway.
To be fair, "Thank U, Next" is grade-A content for people like Nielssen to play around with. The memes, parodies, and spin-off videos that could come from Grande's cinematic marvel are truly endless. Let's be real, Grande got Kris Jenner in a velour jumpsuit, for crying out loud. How can she expect us to stay away from playing with that?
I don't know if I should "thank" or simply "next" the "All Star" mashup, but it doesn't matter. I can't erase it from my brain even if I wanted to.