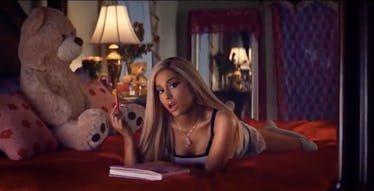 Ariana Grande's "Thank U, Next" Video Is An Epic Tribute To Your Favorite 2000s Rom-Coms
YouTube
Does Ariana Grande ever rest? The answer, naturally, is no. She's too busy taking over the music world and having the rest of us essentially bask in her pop-star glory. (I'm not complaining.) Her latest single, "Thank U, Next" is the perfect mix of a breakup anthem and an empowering ballad, and it's pretty clear that the world agrees (hello, it's still number 1 on the Billboard Hot 100, people!). Well, after being teased for a week, Ariana Grande's "Thank U, Next" music video is finally here, and it's epic.
Grande first took to Instagram on Monday, Nov. 19, to share some pretty exciting news with her fans. In the video, we see words that looked to be cut out from magazines (kind of like a ransom note, TBH), that spell out, "Thank U Next officially platinum," followed by another line that says, "Don't worry.....", and finally, a line that says, "You're still getting a video."
Grande captioned the video, writing, "thank u 💿 i love u 🖤" and honestly, Ari, we probably love you more:
Now, all of this was pretty exciting. Grande officially confirming that a "thank u, next" video was going down, in and of itself, was enough to make me want to throw a party. But the news didn't stop there, friends.
Grande then took to Instagram to upload a series of photos with captions that seemingly hinted that her music video for "thank u, next" was going to pay homage to all of the incredible rom-coms that we all know and love from the 2000s.
Fetch, indeed.
First, Grande posted three pictures that seemed to reference Mean Girls.
Grande's photo overhaul first started with a picture of her alongside two friends, captioning it, "'yeah but she's my FIRST cousin'" and tagging their Instagram handles:
Come on. We all know that this is a tribute to the Mean Girls character Karen, who famously hooked up with her first cousin, but not like, her regular cousin.
Then, Grande posted a photo of the three friends together once more, with the caption that read, "'would u like us to assign someone to butter your muffin?'":
And finally, Grande posted a picture with the Mean Girls quote, "i'm on an all carb diet GOD KAREN U ARE SO STooPID'":
Then, Grande posted three images that seemed to reference Legally Blonde.
Grande uploaded a picture of her looking very Elle Woods, captioning it, "'whoever said orange was the new pink was seriously disturbed'":
The next photo featured a dog, looking mysteriously like Bruiser, chilling on a pool floatie:
And lastly, a photo of Grande with the "Bend and Snap" manicure queen, Jennifer Coolidge:
I'm getting nostalgic just thinking about it.
Grande then posted a picture of a dollhouse that seemingly looked like the one Matty gave Jenna in 13 Going On 30.
Here's what it looked like in the movie:
God bless 2004-era Mark Ruffalo. Hot damn.
But, I digress.
Lastly, Grande shared a ton of photos of herself and her friends in cheerleading uniforms.
That could only mean the last movie she'd be paying homage to was Bring It On.
All of these Instagram posts finally lead to the real debut of "thank u, next," and you better believe that the video is all sorts of magical:
Well done, Ariana. You've officially made this video so, so grool.