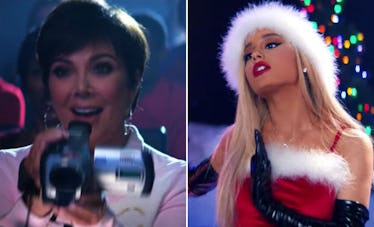 Kris Jenner's Cameo In Ariana Grande's "Thank U, Next" Music Video Is So, So Epic
If you've been paying attention to Ariana Grande lately (honestly, who hasn't, right?), then you definitely know by now that her single "Thank U, Next" got an iconic music video. The video for her new single is an epic homage to the romantic comedy teen flicks of the early 2000s: Mean Girls, Legally Blonde, Bring It On, and 13 Going on 30. Those are some pretty iconic films and many of the actors who appeared in them have gone on to be legendary themselves. And Grande's bringing them back in a big way for the "Thank U, Next" music video. Since there'll be so many faces to keep up with, down below you'll find all the celebrity cameos in "Thank U, Next". And, let me tell you, Kris Jenner's cameo in Ariana Grande's "Thank U, Next" video is definitely the most epic!
Some of these names you definitely know and some of them you don't. Either way, there's no doubt that the video's wild and so much fun!
In any case, here's who's in it:
Kris Jenner
Momager-at-large Kris Jenner made an appearance as Regina George's mom, and never knew how much I needed to see Kris Jenner dancing in a pink tracksuit while holding a camcorder that's the size of her noggin in my life. But I did, OK? I did.
She tweeted this when the video dropped:
So clearly she's proud of her involvement.
Gabi DeMartino
Famed YouTuber Gabi DeMartino made a cameo in the "Thank U, Next" video as Grande's lookalike. And her likeness is so spot on, it's scary!
Elizabeth Gillies
Actress Elizabeth Gillies is well-known for her roles on Dynasty and Victorious, but Grande had a different role in mind for the 25-year-old. Gillies took the place of Lindsay Lohan in the role of Cady Heron, which Lohan originated for Mean Girls. And you know what? Gillies is a pretty good match for Lohan. I'm sure Lohan is flattered!
Here's a look at all the Mean Girls lookalikes for the video:
Matt Bennett
Grande's other Victorious castmate (he starred as Robbie Shapiro) also appeared in the video portraying Cliff Pantone from Bring It On. And wow — he looks hot AF. When did little Robbie Shapiro turn into Cliff Pantone? When?!
Colleen Ballinger AKA Miranda Sings
You may know Colleen Ballinger as Miranda Sings, but she's so much more than just a character! She's actually a multi-talented actress and made a cameo in Grande's video as well. In fact, she already made a brief appearance in the preview for the video. If you haven't seen the preview, check it out down below:
Troye Sivan
It's no secret that Grande and Troye Sivan are great friends. They've even worked together and now they brought their friendship to Grande's new music video. In the preview for "Thank U, Next", Sivan makes a very Mean Girls-esque appearance in which he suggests that Grande is "a lesbian now and dating some chick called Aubrey" — an obvious riff on an iconic line from the movie. Later, Ari, as Regina George, pushes him against the lockers.
Stefanie Drummond
Remember Bethany Byrd from Mean Girls? She's back! Well, the actress is anyway. Stefanie Drummond, who played Bethany in the film, appeared in the video for "Thank U, Next" playing a character who got engaged and then broke it off to copy Ariana Grande.
Jonathan Bennett
Jonathan Bennett reprised his role as Adam Samuels in the "Thank U, Next" video, which is a real treat for all the Mean Girls fans out there!
As you may or may not know, Grande is a huge fan of Means Girls and all the films she paid homage to in her new music video. And the fact that she was able to get all these celebs to appear in the video is a true testament to her love of these films. Check out the whole video below!