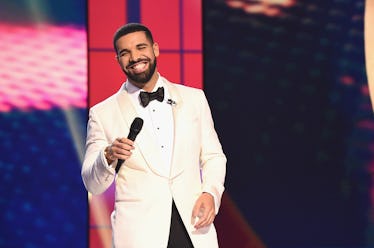 Drake Threw A 2000s-Themed Birthday Party That Will Fill You With So Much Nostalgia
Michael Loccisano/Getty Images Entertainment/Getty Images
Drake has just turned 32! And he celebrated his 32nd birthday by going way back in time with a 2000s-themed birthday party. Not only did Drake encourage his guests to dress as if they were straight out of 2005, but he also made sure that the party's atmosphere made them feel like they were living back in the day as well. And the photos of Drake's 2000-themed birthday party will make you super jealous that you weren't invited.
In photos posted to the Official Drake Fansite Instagram page, @wordonrd, Drake filled his party with all kinds of mini attractions for his guests to enjoy. There was what he called Sandra's Rose room, which was filled with roses and photos of Drake and his mom. Her name is Sandra, by the way! There was also a Blockbuster Video wall celebrating the now-defunct video rental store. The wall was complete with the Blockbuster-branded cases you'd take off the shelf when you were renting a movie. Pretty cool!
And since 7-Eleven was apparently the place to be in the early 2000s, Drake also had a 7-Eleven stand complete with Slurpees and snacks for his guests nibble on.
To pay homage to some of the stuff that made the 2000s so unique, Drake also had a Rap City booth, a 106 & Park set and photo booth, as well as a JayDees Connection pop up store. JayDees Connection was a Canadian accessories store that Drake seems to have been fond of during his teen years.
Drake arrived to party dressed as rapper Fabolous, sporting a look from the "Trade It All Part 2" music video. His outfit included chains, a bandana, a Los Angeles Dodgers jersey, and even a flip phone.
Ready to go back in time? Here's an inside look at Drake's 2000s-themed birthday party:
Judging by all the photos and videos, Drake's party was one heck of a good time. I'm sure everyone who was there felt the pull of nostalgia thanks to how well-planned everything seems to have been. Drake definitely got the whole 2000s vibe down, for sure.
As awesome as this theme was, the guest list was even more incredible. Kendall Jenner, G-Eazy, French Montana, Swizz Beatz, and Diddy were all reportedly in attendance. Kendall Jenner in particular really channeled her inner-2000s kid. According to Teen Vogue, Jenner sported a Von Dutch hat, which was made hugely famous by Ashton Kutcher. She also wore low-rise flare jeans and a spaghetti-strap tank top. So, she was definitely on theme for Drake's party.
The 32-year-old rapper is fond of birthday themes. Drake's 2000s-themed party is just another one for the books. Last year, he hosted a Bar Mitzvah-themed party that was complete with a Bar Mitzvah board.
So, Drake is all about birthday themes and he seems to have a really fun time treating his party guests to new experiences. And that's such a wonderful way to spend a big birthday. He definitely outdid himself this year!