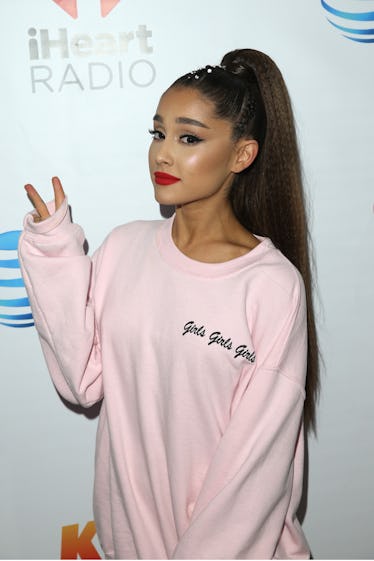 Ariana Grande's 'Sweetener' Merch Will Make All Of Your Pop Star Dreams Come True
Jesse Grant/Getty Images Entertainment/Getty Images
If you don't connect with Ariana Grande's Sweetener album on a spiritual level, I'm not quite sure we can be friends. The highly anticipated album was filled with songs that are now considered iconic by her fans, and the dreamy quality of Grande's music videos from the album are now basically legendary. And let's be real: Ariana Grande started a lifestyle trend, not only when it comes to music, but when it comes to fashion, too. So it shouldn't be all that surprising to know that Ariana Grande's Sweetener merch is highly coveted — but guess what? You can score yourself some pretty sweet products to show just how big a fan you are of the singer. Hell, it may even make you turn into a pop star yourself.
By the way, we're not talking about those fantastic t-shirts plastered with cheesy graphics of your favorite boy band (What's up, Backstreet Boys?) that you wore throughout your childhood. No, no. We're talking about ~lewks~ that are basically straight off the runway, because honestly, would Ariana Grande supply us with anything less? Of course not.
You can find the collection of merchandise in Ariana Grande's online shop, but I'm warning you that you may want to watch your wallet, because you're going to want to buy all the things. If you don't believe me, just wait. You'll see.
You know you want to get your hands on this Sweetener backpack.
LOOK AT THIS BACKPACK. It's like the clouds parted and this backpack was sent down from the heavens above. While the cost sounds steep, just know that it includes a digital download of the album with your purchase (and so does the rest of the merch!), so it's actually a pretty solid investment if you ask me.
What about this cozy Sweetener Crew Neck Sweatshirt?
Considering we see Grande constantly rocking cozy, oversized sweatshirts, there's pretty much no other reason you need to snag yourself one of these. Plus, it has Sweetener's signature album cover (aka, upside down Ari) on it, so you can show the world how much you appreciate your girl.
Face it, you need this "And What About It?" T-Shirt.
If you're ~in the know~, then you're aware of this lil' gem of a statement that Ariana Grande muttered when a photographer yelled that she wasn't looking while she was walking the red carpet at the 2016 Billboard Music Awards:
Grande famously brought back the line on Twitter back in May, too:
And now, you can wear the iconic statement to your heart's content. Do it. You know you want to!
Do you want this Sweetener fanny pack? Because I want this Sweetener fanny pack.
Look. I know what you're thinking. How the hell does a fanny pack look so cool? The only answer is that it's because Ariana Grande has put her mark on it. That's it. I don't care whether fanny packs went out of style decades ago, this one is top-notch and should be worn at all times, even when you're not on vacation to Disney World with your family.
I'd like to live in these Dangerous grey sweatpants, and I have a feeling you would, too.
As if you even needed a reason to get yourself another pair of sweats to lounge around the house in (or, in my case, go food shopping in). These look... dangerously comfortable. Sorry, I had to.
And maybe you should consider getting a Dangerous Bunny hoodie to match.
If a crewneck sweatshirt isn't exactly your speed, then I'd *highly* suggest going with a classic hooded sweatshirt, a là this Dangerous hoodie above. Plus, the back boasts a photo of Ari herself in her famous bunny ear mask, and it's cute AF.
So if you're the ultimate Ariana Grande fan, do yourself a favor and grab yourself one of these merch items. Or three. OK fine, put them all in your shopping cart.
Go ahead. You totally deserve it.