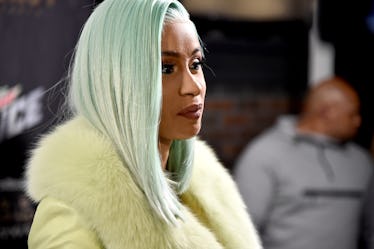 Cardi B Said She & Offset "Grew Out Of Love," & Here's What That Means
Theo Wargo/Getty Images Entertainment/Getty Images
If you haven't already heard, Cardi B and Offset are no longer baes. The 26-year-old "Money" rapper and new mama told the world in an early-morning IG video on Dec. 5 2018 that she and her rapper hubby will be getting a divorce. In the video, we learned that Cardi B and Offset "grew out of love," on Instagram. But what exactly does that mean?
She didn't throw any shade and she didn't end the video with "Boy, Bye." She simply told her fans that they were both heading into the friend zone. With Cardi B's announcement coinciding with Ariana Grande's current breakup anthem "thank u, next," celebs appear to be practicing conscious uncoupling left and right. Mature, amicable breakups seem to be the name of the game these days, but does that make them any easier than an ugly split?
Cardi B says that she'll "always have a lot of love" for Offset, but that she's no longer in love with him. If you think this sounds like a gray area, you're not alone. I talked to some experts who helped me understand what it means to love someone even if you're not in love with them.
Dr. Paulette Sherman, psychologist and author of the upcoming book, Facebook Dating: From 1st Date to Soulmate, explains what Cardi B probably means when she says they "grew out of love." Sometimes you can care "about someone as a friend, but not feel romantic chemistry anymore." Cardi B explains that she and her baby daddy are still "really good friends and really good business partners," but that they aren't ga-ga for each other anymore, and have called it quits.
According to Rachel MacLynn, chartered psychologist and founder of the Vida Consultancy in London, it's absolutely possible to grow out of love with someone but still have a place in your heart for them. "You may have grown out of love in a passionate and intimate way, but empty love may still remain," she tells Elite Daily. However, that doesn't necessarily mean you don't need time to heal from the split. "On one hand, you miss having passion and intimacy, yet you don't necessarily want ... the commitment with your partner," MacLynn adds.
So, what exactly does it mean to grow out of love with someone? To help me get to the bottom of this, MacLynn breaks down Robert Sternberg's triangular theory of love. She explains that "love has three components: passion, intimacy, and commitment. Passion is usually felt early on ... it's that feeling that you want to rip each other's clothes off. Intimacy develops as you connect psychologically. Commitment refers to the conscious decision to stay together." When people fall out of love with each other, it "usually means the passion and intimacy has gone out of their relationship."
Falling out of love with someone typically happens more abruptly, when suddenly, you don't melt when you see your partner anymore. However, growing out of love, tends to be a little more gradual. Dr. Sherman says that a deep feeling of being in love "often lasts one to three years in terms of that addictive, hormonal, lustful draw." However, she adds, it's "an idealization stage that becomes harder to maintain with the same intensity as you get to know someone more deeply."
Cardi B seems to be keeping her cool, but cordial breakups can be an emotional and heart-wrenching time. She and Offset tied the knot in September 2017 and had their daughter, Kulture, in July 2018. Even when it's for the best, it can be sad to end such an important chapter of your life.
Ending things with a partner can make you feel all types of ways. Mad, sad, crazy, relieved — you name it. But Cardi B comes off as super chill and relaxed in her Instagram video. Sometimes, when you're sure about ending things with your person, you're left with a calm sense of clarity. Maybe that's what adulting is all about when it comes to relationships? Of course, I wouldn't wish a divorce upon anyone, but if things don't work out, Cardi B and Offset's fizzled romance might be breakup goals.