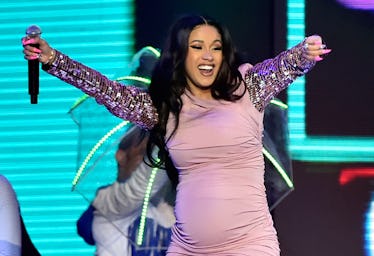 Cardi B Gave Birth To Her First Child & You Need To See The Announcement
David Becker/Getty Images Entertainment/Getty Images
When Cardi B referred to the baby in her belly as a "she" before the Met Gala on May 7, the internet went crazy with the rumor that the rapper had just accidentally revealed she was pregnant with a girl. A tiny, little Cardi — can you even imagine? Um, YES, because it would be AWESOME. And now, after weeks of speculation, the moment has finally arrived! Cardi B gave birth to her first child, and I am here to tell you that the baby is a little girl! I repeat, the baby is a girl, okurrrr?
The new addition arrived on July 10, 2018 and the bundle of joy is named Kulture Kiari Cephus. The rapper shared the big news on social media with a post on Instagram. The post shows Cardi very naked and pregnant, surrounded by flowers. Is anyone else getting Beyoncé twin announcement vibes? The caption simply reads, "Kulture Kiari Cephus 07/10/18🎀🌸 @offsetyrn."
I am just so happy that Cardi's baby is finally here. Remember when she first shared the exciting news with her big reveal while appearing as the musical guest on Saturday Night Live back early in April? The singer took the stage near the beginning of the show to perform a "Bodak Yellow"/"Bartier Cardi" medley while wearing a black and white dress that concealed her stomach. But it was during the second performance of her new song "Be Careful," that the camera pulled back to reveal her beautiful baby bump in a fitted white dress, confirming that Cardi was expecting her first child with her fiancé Offset.
SO EPIC! She also doubled-down with an announcement on Twitter the next morning:
Rumors first started circulating that Cardi was having a girl after the still preggers mama chatted with the New York Times before the Met Gala, and kept calling the baby in her belly a "she."
"Shorty weighs three and a half pounds," she said. "She do. She do weigh three and a half pounds. That's pretty good for seven months, right?"
She did the whole "she" thing again while speaking to Entertainment Tonight later that same night on the red carpet. "Oh, she wants to fight me!" Cardi B said when a reporter asked if her baby was kicking. Watch:
Such a queen!
And here was another clue: Before she appeared as guest host on The Tonight Show Starring Jimmy Fallon on April 9, Cardi posted a video on Instagram of her very first baby gift. It was a basket of baby swag from Fallon himself, and it included a pale lavender blanket, a bedazzled bottle, and a teeny cheetah-print fur coat.
It sure seemed like Cardi would indeed be giving birth to a girl — either that, or maybe a mini Dennis Rodman.
The rapper finally confirmed that she was having a daughter during an interview with Howard Stern on May 9. And she revealed during a recent appearance on The Ellen DeGeneres Show that Offset is the one who came up with the name.
"My dude named the baby," she told DeGeneres. When Cardi wouldn't reveal what that name was, DeGeneres tried to bribe her with $20,000 to call the baby "Ellen."
"Can I put it as the middle name," Cardi wanted to know. LOL #jokes.
DeGeneres then gifted Cardi with a pint-size copy of the outfit she wears on the cover of her new album. You have to watch the clip below to see this thing because it is seriously amazing.
But my favorite part of the ep was when DeGeneres played a clip of Cardi getting her twerk on during her performance at Coachella, and the new mama responded this way: "I was just trying to show the world how I got pregnant in the first place."
Classic Cardi. Congrats on the birth of your new baby — and never change, mama. Never change.