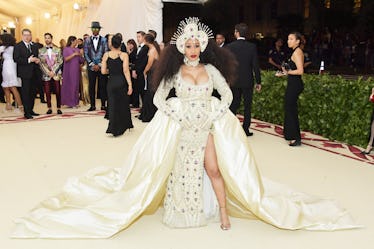 Cardi B Rocked Her Baby Bump On The Met Gala Red Carpet & Twitter Loved Her Look
Neilson Barnard/Getty Images Entertainment/Getty Images
Cardi B is, hands down, the rapper of the moment. She's got hits for days and charisma that would charm just about anyone. So, it's no surprise that fans are wanting to see her walk the red carpet at every event possible. This is especially true now that Cardi's expecting her first child, and fans want to get a glimpse of her before she gives birth! Luckily for hip hop fans everywhere, yes, Cardi B's at the 2018 Met Gala and doing what she does best: making everyone crack a smile.
The 25-year-old stepped onto the red carpet in a Moschino gown and a killer headdress. She also had the best accessory — she was sporting her adorable baby bump.
But let's talk about that headdress! It just says Beyoncé all over it. Even fans on Twitter think so. For those of you who don't remember, Bey wore something very, very similar during her Grammys performance back in 2017. So, naturally, people are giving Cardi B a bit of a side-eye for her choice of dress. You can't copy Bey and just get away with it. That's a huge no-no. And fans took to Twitter to let Cardi B know.
Some fans are really loving it, though!
Whether you love Cardi's look or hate it, it's fair to assume Bey inspired her at the very least. Maybe this was just her way of paying homage to the Queen. Either way, she looks beautiful and she seems to be having fun.
But, Bey similarities aside, fans also want to know if her longtime boyfriend and father of her baby Offset there with her? He may not be walking the red carpet with her, but he's definitely there. He walked the carpet earlier with the rest of Migos and they looked amazing.
The Met Gala is actually a really special event for Cardi B and Offset, as this was the event that sparked their romance last year. It was only after the 2017 Met Gala, when Cardi and Offset attended an after party together, that the two became the real deal and went public with their love.
And now, a whole year later, they're expecting their first child together and it's so heartwarming! Cardi is due to give birth in July, which makes her around seven months pregnant at the moment.
In early May 2018, Cardi announced that she would stop performing to focus on her pregnancy. In a video message posted to her Instagram, she explained the decision to her fans:
Shorty keeps growing and I be looking like I be moving and everything. But in reality, a bitch barely can breathe … I can barely breathe right now. I've ate like six chicken wings, and I can barely breathe now.
Well, she's never been one to hold back and she certainly has great reasons for slowing her schedule down a bit.
In a report from Us Weekly, an unnamed source close to Cardi explained how she's handling the pregnancy:
She is loving eating for two. But she doesn't love the way she looks in her performance outfits anymore.
Aw, that's actually really cute to me. At least she's enjoying this experience of being pregnant and making sure she's doing what's right for her body! Can't fault her for that.
So, the Met Gala may be the very last time we see Cardi B prior to her giving birth, especially since she seems to want some time away from the limelight to prepare herself. Ah well, can't wait to see the little when Cardi's ready to show the baby off to the world!