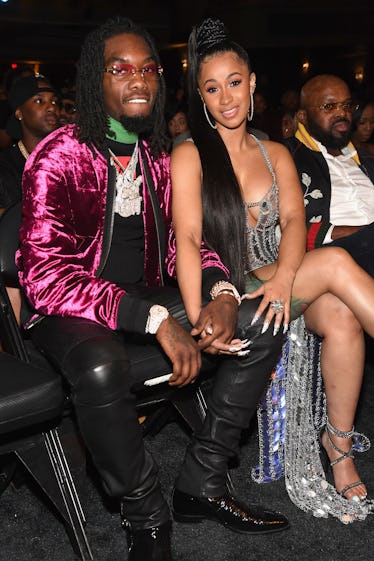 Offset's Reaction To Cardi B's Breakup Announcement Will Make You So Sad
Paras Griffin/Getty Images Entertainment/Getty Images
Cardi B and Offset are officially done. The "Be Careful" rapper announced in an Instagram video posted early in the morning of Dec. 5 that she and Offset, who have been married since September 2017, have broken up and will be getting a divorce. Offset's reaction to Cardi B's breakup announcement, while sad, has a bunch of people on Twitter scratching their heads for a particular reason.
Cardi B's Instagram announcing her and Offset's split was surprisingly calm, given the subject matter. She has a sad air about her, of course, because who wouldn't be sad when delivering this kind of news, but her announcement was graceful and to the point.
"I've been trying to work things out with my baby father for a hot minute now," she said. "We're really good friends and you know we're really good business partners. And you know, he's always someone that I run to to talk to, and we got a lot of love for each other. But things just haven't been working out between us for a long time, and it's nobody's fault."
Then came the bombshell. "I guess we grew out of love. But we're not together anymore. I don't know, it might take time to get a divorce. And I'm always gonna have a lot of love for him because he is my daughter's father. And yeah."
I've gotta hand it to Cardi for this one. Announcing you're getting divorced in an Instagram video is a particularly vulnerable way to deliver this deeply personal news.
Offset has already reacted to the post, and people on Twitter are scratching their heads over it. He took to the comments section of Cardi B's video and said, "y'all won."
Part of Twitter thinks this comment is super heartbreaking.
Others think it's a weird thing to say, given that he reportedly cheated on Cardi.
Rumors of Offset's reported infidelity started in January 2018. Cardi B originally responded to the rumors on Twitter, but deleted her post shortly after. According to People, her tweet had said, "No, it's not right for a [n***a] to cheat…But what you want me to do? Go f*ck me another n****? Start all over again and get cheated on again? This sh*t happens to everyone and I be too, you too…People handle they relationship different soo." Elite Daily previously reached out to Cardi B and Offset's teams for comment on the rumors of him cheating, but did not hear back by the time of publication.
She later addressed the rumors in an interview with Cosmopolitan. While she didn't flat-out say "Yes, Offset cheated," her response was in defense of her staying with him and trying to work things out, which fans took as confirmation enough.
"I don't have low self-esteem. I know I look good. I know I'm rich, I know I'm talented. I know I could get any man I want — any basketball player, football player," she said. "But I want to work out my sh*t with my man, and I don't got to explain why. I'm not your property. This is my life... I'm going to take my time, and I'm going to decide on my decision." They seemed to have worked things out and were happy together after that dust had settled, with their couple-y joy only increasing when Cardi gave birth to their daughter, Kulture, in July.
Less than two weeks before Cardi announced her and Offset's split, the rapper had posted a video of her flirting hardcore with her husband. Offset posted a photo of him and Cardi courtside at a basketball game on the same day. Nothing about either of these posts hinted that there was trouble in paradise (quite the opposite, really), but life comes at ya fast, I guess.