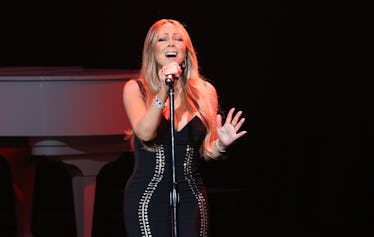 Mariah Carey's New Year's Rockin' Eve 2018 Performance Was Totally Different Than Last Year
Tommaso Boddi/Getty Images Entertainment/Getty Images
You may remember that last year, Mariah Carey's new year's performance at New Year's Rockin' Eve didn't exactly go as planned. "A disaster," a "mishap," and "a meltdown," were a few common phrases used to describe the performance, in which a sound malfunction led Carey to stop singing and simply walk around the stage, talking about how she couldn't hear anything. But never let anyone tell you that these mistakes can't be redeemed, my friends, or at least that one can't try, because Carey came back this year. Yes, Mariah Carey's New Year's Rockin' Eve 2018 performance has been much anticipated ever since it was announced she would return to the stage for another chance to ring in the new year right.
Now, last year, Carey removed her coat of white feathers, behind a fan of white feathers, after singing "Auld Lang Syne," and by the time she reemerged with a few back-up dancers at her side, the sound in her earpiece reportedly stopped working. As a result, Carey stopped singing and stood at the front of the stage in silence before saying, "Can't hear nothin'," "alright," and "Happy New Year, everybody." Things did not get better from there.
While Carey said that the problem was the sound, the Dick Clark Productions camp said it was because Mariah didn't want to do a proper sound check.
The pop star and vocal powerhouse ultimately took the whole thing in stride, responding on Twitter with a GIF of herself shrugging and a caption that said simply, "sh*t happens."
Sh*t does, indeed, Mariah, but this year, it simply didn't. Carey took to the stage at New Year's Rockin' Eve 2018 in a beautiful white fur, not entirely dissimilar to last year's, as if her outfit just might be a possible nod to last year's struggles. The singer pretty much freakin' killed it. And while rumors swirled about what Carey would sing, she did indeed come through with a little 'Hero' action, much to the joy of her fans.
While Mariah did ask for some tea at the end, likely because it is the coldest Time Square New Year celebration in NYC in 55 years, all in all things really went well. Hosts Ryan Seacrest and Jenny McCarthy spoke highly of her performance upon it's completion, and when Seacrest asked Carey how she felt about her performance after the fact, since there was simply so much buzz about it beforehand, she too, seemed pretty pleased by it all.
"Oh, I'm feeling a whole lot better than last year," the singer said, "when I had to get my own police escort to walk away."
Yeah, that's right, people were so upset about Mariah's performance mishaps last year that she needed even more security detail than normal.
But as you may imagine, Twitter reactions to this 2018 performance were plentiful, and mixed, despite the fact that any major problems were side-stepped.
Carey's fans came out with their support flags raised high after the singer's performance.
And it's true, she was here for it despite the freezing temperatures.
Nevertheless, not everybody let Carey go unscathed this year.
The whole asking for tea thing did make a Twitter splash.
But say what you will about the performance, I must say, I'm relieved it all went down pretty well and without any majorly unfortunate events this year for Mariah.
Because some people claimed Mariah's 2017 struggle set the tone for the absurdly challenging year that followed last year's performance.
So, if this is indeed true, if Carey's new year's performance predicts the coming year the same way Punxsutawney Phil's shadow on Groundhog Day supposedly predicts the length of winter, it appears we are in for a pretty okay year in 2018. Maybe one that even makes up for some of last year's mistakes. A girl can dream, right?
Happy New Year, my friends!