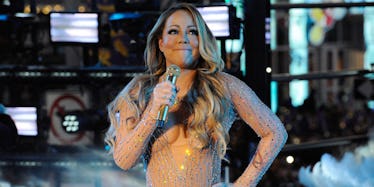 Mariah Carey's Response To Her NYE Fail Should Be Everyone's Motto For 2017
REUTERS
Mariah Carey had a cringeworthy start to the new year when she forgot all the lyrics to her hit song "Emotions" in Times Square during "Dick Clark's New Year's Rockin' Eve with Ryan Seacrest."
During the mortifying performance late Saturday night, Mariah suffered a technical malfunction, forcing her to actually sing, instead of lip sync.
She responded on Twitter shortly after, saying, "Shit happens."
Honestly, she's right -- shit does happen. Her words of wisdom might've just become our new motto for 2017.
No matter what happens this year -- the good, the bad or the ugly -- rest assured, "Shit happens." If Mariah Carey could get through her performance, YOU can get through anything.
If you missed out on the humiliating onstage debacle, allow me to recap for you... but be warned, it's cringeworthy.
Soon before midnight, the 46-year-old pop star, bedazzled in a sparkling, nude bodysuit and a feathery boa, was at a loss for words when her song started playing without the vocals.
C'MON, MARIAH, SING SOMETHING!
You'd think she would have at least tried to sing along with her song, but it appeared the singer didn't even know her own lyrics.
Once she made the embarrassing realization the vocal track wasn't playing along with her music, she addressed the audience and said, "We can't hear."
Then, she put her left hand on her hip in the sassiest way possible and stared into the distance. I'm going to assume she was eyeing the sound booth and cursing 'em all off in her head.
I know one thing's for sure: I definitely wouldn't want to be her sound technicians right now.
Moments later, a discouraged Mariah blamed her vocal oblivion on the fact there was no soundcheck for the song and said, "We're missing some of these vocals, but it is what it is." *EEK*
After attempting to sing along, the diva gave up and let the audience take over. She said,
We didn't have a sound check, but it's New Year's, baby.
Brush it off, girl, brush it off. Just remember: SHIT HAPPENS.
At this point, my eyes were covered because I couldn't handle the secondhand humiliation, but the show must go on, right?
Unfortunately, Mariah's next song during her performance wasn't her saving grace.
Her 2005 hit "We Belong Together" started playing with the pre-recorded vocal track, but the singer appeared to have given up. She stopped singing multiple times, affirming the fact she was still lip-syncing.
When she was finished, she said, "It just doesn't get any better," and stormed off stage.
According to Associated Press, Mariah's spokesperson, Nicole Perna, commented on the performance and said,
Unfortunately there was nothing she could do to continue with the performance given the circumstances.
I have an idea, though. Maybe -- just maybe -- knowing the lyrics of her own music would have helped!?
Since the performance, Twitter's been ruthlessly tearing Mariah's onstage shit show to shreds.
Keep your head up, Mariah! Like you said, "Shit happens."
You're still a pop goddess in our book, and we'll take your words of wisdom with us into 2017 with pride.