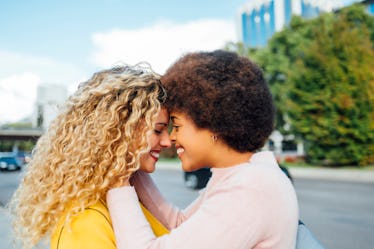 These 3 Zodiac Signs Are The Best Matches For A Scorpio
Shutterstock
Come on, who's the hottest zodiac sign around? Be honest. Everyone wants a piece of them, yet everyone loves to hate them. They inspire fear, vitriol, and obsession wherever they go. No matter how much we may bash them, I think the truth is that we all secretly want to be them. Scorpios are just that magnetic. Oscillating between extreme darkness and heavenly light, their unpredictable sting makes them the quintessential villain of the zodiac. But, let's be real here: They're the villain you also want to hook up with . If you're wondering whether they'll reciprocate your feelings, these zodiac signs make the best matches for Scorpio: Taurus, Cancer, and Pisces. While there's no astrological pair that isn't marked by their own beautiful and unique compatibility, there are certain zodiac signs who were made to fall in love with each other.
Because Scorpio, a fixed water sign, carries a heart that can't help but overflow with passion, they're basically dripping with carnal romance wherever they go. Is it no wonder everyone wants to be with them so much? However, a Scorpio doesn't fall for just anyone. After all, it takes someone very special to drag the scorpion away from their desert lair. If they do decide on you, you better prepare for a whirlwind.
Taurus: Opposites Attract & It's So Exciting
What is it about a hottie that you also can't stand? Even though their personality may frustrate you most of the time, there's something about them that's just so attractive. In astrology, there's nothing as intriguing as a pair of opposite signs who finally realize just how much they have in common. For Scorpio, this sign is Taurus.
While Scorpio is flowing with fixed water, Taurus is cut from fixed earth. Both of these zodiac signs are serious about their commitments, and if they find each other, you can bet they'll never give up on their love. However, Scorpio's love is made of deep, unwavering emotion that seems to flow from another world. Adversely, Taurus is concerned with what is tangible in the physical realm. Even though they may butt heads, it's fireworks when they set aside their differences.
Cancer: A Fairy Tale Come True
Of every sign in the zodiac sign, Cancer has got to be the most adorable match for Scorpio. Because both are ruled by the element water, they'll never have to worry whether their emotional needs are being understood. Water is sensitive, intuitive, and spiritual, and both Cancer and Scorpio exude these qualities flawlessly.
However, while Pluto-ruled Scorpio has their sights on the dark side of life and can't help but feel fascinated by all things taboo, Cancer has softer concerns. Ruling over the fourth house of home and family, Cancer is the sign that soothes the pain in one's heart and brings everyone together. Where Scorpio is confronting, Cancer is comforting. Think of this pair as the lion and the lamb. It's deadly, yet so unbelievably sweet.
Pisces: This Is What Dreams Are Made Of
When a Pisces and a Scorpio come together, their merged powers grant them access to other realms. Their romance is something out of a dream. The only danger is that it may be a dream they never want to wake up from.
Scorpio rules over the eighth house of death and rebirth while Pisces rules over the 12th house of spirituality. At the very core of their existence is a desire for something more out of life. In fact, they've each got one foot in the real world and the other foot in a fantasy world. When Scorpio and Pisces fall for each other, they may run away to a faraway place and never come back. Why should they? After all, they've finally found their partner in mystical crime.
This article was originally published on