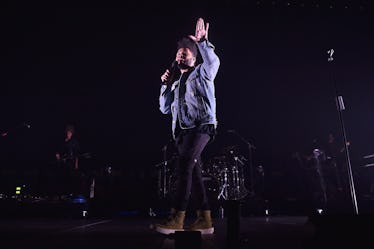 The Weeknd Is Caught Cuddling Up Justin Bieber's Ex Post Selena Gomez Breakup
Theo Wargo/Getty Images Entertainment/Getty Images
The latest Hollywood love triangle appears to have upgraded to a square. Selena Gomez ended things with The Weeknd, seemingly to give her first love — none other than Justin Bieber — a second chance, but now it appears the rapper might've found a new flame of his own. The Weeknd was holding hands with Justin Bieber's ex, and everyone is so perplexed about the situation.
The rapper was spotted out with Bieber's ex, Yovanna Ventura, and now rumors are beginning to circulate as to whether or not these two are an item. Considering all that's happened between Gomez and The Weeknd, not to mention Gomez and Bieber, it's rather interesting and ironic that this dynamic duo chose to make an appearance now.
First thing's first, since this love web is about to get pretty tangled, let's backtrack. Gomez and the rapper parted ways earlier this fall reportedly due to irreconcilable schedules. A source who spoke to People claims that different projects tore them apart, and it was an issue that had been putting pressure on the young couple for quite some time. The source said,
She [Selena] and Abel have been going back and forth for a few months about their relationship. It's been hard with him being on tour and her shooting in New York. That wasn't easy on them.
Fans were not pleased and nonetheless confused about the breakup. Everyone knows things are over when it comes time to unfollow the person and his or her relatives on social media. The Weeknd did just that — yet Gomez still decided it was A-OK to wear his jacket, even after things came to a close. So, are they or aren't they? We have way too many of these questions in Hollywood.
It seemed that everything with The Weeknd was a fleeting memory, as Gomez quickly went back to her old ways. Photos emerged of the singer and actress eating brunch with Bieber and attending church with him, which definitely seemed to put a damper on things with the "Can't Feel My Face" singer, especially given the timeline. Well, just when we thought things might be settling down, The Weeknd came in to shake things up.
On Friday, Nov. 10, he was photographed out with Bieber's ex, Yovanna Ventura. Well, well, well, isn't that a bizarre turn of events? The two possible new lovebirds were spotted making their way to French Montana's birthday bash... but not without causing some serious speculation first.
Sources at the party were quick to comment on the seemingly lovey dovey spark between the two. An observer told US Weekly, "They arrived together. They were holding hands. He was there for a solid two hours with her and everywhere they went they held hands."
Oh snap. Jelena, you better watch your back.
So, are these two just friends? Is The Weeknd trying to get back at Gomez and Bieber? Why, out of all the people in Hollywood — and the world — did he just so happen to cross paths with his ex-girlfriend's former (and potentially on-again) ex-boyfriend's old flame? Phew. Are you keeping up? Pretty soon Bella Hadid is going to make her way into this mess and then things are really going to get complicated.
Despite it all, Gomez did like one of The Weeknd's Instagram posts, so perhaps everything is all peachy keen? Maybe these former couples will soon look to plan a double date. At this rate, who the heck knows?
If you're confused, we certainly don't blame you. It's quite a twisted love affair, and a bit of a messy one at that. But hey, if everyone's happy, good for them. Gomez and The Weekend just better realize fans are dying for confirmation. Apparently Kylie Jenner didn't get the whole "confirm or deny" message, either.
Check out the entire Gen Why series and other videos on Facebook and the Bustle app across Apple TV, Roku, and Amazon Fire TV.