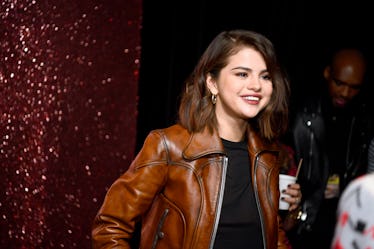 Selena Gomez Just Proved She's Totally Fine After Breakup With The Weeknd
Dave Kotinsky/Getty Images Entertainment/Getty Images
If you're wondering if Selena is somewhere laying low, eating Oreos, and crying over the end of her relationship, you're damn wrong, honey. In fact, she's hitting the streets with her friends and hanging out with fans, being a cool cucumber and easy-breezy goddess. Selena Gomez' response to her breakup with The Weeknd shows us she's literally chilling, and doing just fine, thanks very much.
On Oct. 30, fans were struck down with the news that Gomez and Abel Tesfaye (aka The Weeknd) were calling it quits after 10 months of what seemed to be heavenly relationship bliss. Sources told People magazine that they have actually be in on the rocks for some time, and the stresses that came with their respective careers might have had something to do with their romance unraveling.
Elite Daily reached out to both Gomez' and The Weeknd's teams for comment, but did not hear back in time of publication.
Now, fans' eyes have been on both of the musicians' social media feeds for signs of life, and wouldn't you know it, they both seem to be doing just fine.
Gomez took to her Instagram to post a video of herself riding down the street on a bicycle while rocking out to her new hit "Wolves." In it, she's all smiles and has great makeup — the actual opposite of what it looks like to be heartbroken.
In the video, it looks like she and a friend are driving through a small town happily singing and taking pictures with fans. An interesting yet specific choice on the day her breakup went public, no?
For his part, The Weeknd shared this melancholy selfie with the caption, "Toronto nights."
Whatever that means.
Maybe he was simply thinking, "Wow. I look really nice in the jacket." Or, maybe it's an actual coded shout out to Selena and "Toronto" means "I love you" and "nights" means "please come back to me."
Hmm... guess we'll never know.
One of the sources explained,
She [Selena] and Abel have been going back and forth for a few months about their relationship. It's been hard with him being on tour and her shooting in New York. That wasn't easy on them.
Yeah, yeah, yeah. We've heard it a thousand times. FAME RUINS EVERYTHING WE HOLD DEAR.
Back in the day, when Gomez and The Weeknd went public, Gomez had told Ryan Seacrest on his radio show how freeing it was to not have to keep her relationship a secret.
At the time she said,
I'm just genuinely myself. It's really hard when I would want to spend so much time hiding things. It's too much pressure, and I think that everyone gets over everything eventually… that's what I've learned.
... I just want to be happy. If that's me just being myself, then I don't really care.
I know, it still burns.
To throw another interesting plot twist into the mix, Gomez was recently spotted hanging out with...
Wait for it...
...Justin Bieber
Dun dun dun!
Honestly, the idea of those two getting back together is sort of a too much for me to process and alarms me an embarrassing amount. TMZ reported the exes were spotted out and about eating a casual breakfast in Westlake Village, and even hung out at Gomez' home.
Like, what?
Sources claim Bieber has nothing to do with the breakup, but you gotta admit, it feels incredibly suspicious and the timing is uncanny.
Regardless, we'd say we're thinking of you guys, Selena and Abel, but it looks like you don't need our backup. Keep on keeping on.
Check out the entire Gen Why series and other videos on Facebook and the Bustle app across Apple TV, Roku, and Amazon Fire TV.