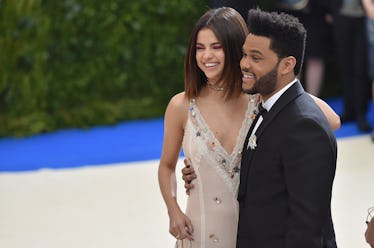 Selena Gomez's Instagram Like Is A Clue Of Her Relationship With The Weeknd Post-Break Up
Theo Wargo/Getty Images Entertainment/Getty Images
You might want to shut your eyes, Justin Bieber. There doesn't seem to be any bad blood between Selena Gomez and her ex-boyfriend, The Weeknd. In fact, they might even be... dare I say it... friends? Selena Gomez liked The Weeknd's Instagram post, giving us all hope that functional relationships with exes are just one stealth click away.
On Nov. 10, The Weeknd posted a picture of himself celebrating French Montana's birthday, and eagle-eyed fans spotted a "like" from Gomez. This is kind of a big deal seeing as Gomez and The Weeknd, who were first publicly spotted kissing back in January, split up last month.
A source explained to E! News that "distance definitely played a factor" in their break up, saying,
It's been hard for them to come to the realization that this is the direction things were heading, but it's been hard for months. They have been open and honest about it and where they were going.
"They are still talking and will remain friends," the insider added. "They have been very grown-up about it."
OK, so obviously after every celebrity couple breaks up we get the standard statement of "they're totally fine, it was amicable, they're still close buds." However, the fact that Gomez is liking an Instagram post of her ex-boyfriend shows that maybe, just maybe, the whole friendship thing isn't just a facade.
Twitter was pretty thrilled/confused by this new development.
This is all a tad bit unexpected seeing as The Weeknd made the bold leap to unfollow several of Gomez's friends and family members on Instagram after the break up, including the singer's mother, assistant, and best friend Francia Raisa.
Meanwhile, it seems like, on the surface anyway, Gomez has moved on. She's been spotted out and about with her former boyfriend Justin Bieber, cuddling at a hockey game, going on very cute bike rides, grabbing brunch, and heading to church. It really does seem like Jelena is fully alive and well again. Yup, I'm just as shocked and intrigued as you are.
"Justin was Selena's first love. He will always have a special place in her heart," an insider told People. "She's always held out hope that one day the circumstances and timing would be right." The source added,
There have been times in the past where Selena was excited and thought things would work out again, but then was disappointed [by how things turned out].
Ugh, yikes. Here's hoping that this time around works out smoothly. Sources on Bieber's side pretty much reiterated to People that this reunion has been magical and lovely, and Jelena fans needn't worry. The insider said,
They're having a great time together. Neither are seeing anyone else and they seem happy to leave it at this for now. Spending time together makes them both very happy. For Justin, no one ever came close to comparing to Selena. He always thoughts she was the most special and now seems mature enough to realize Selena deserves the best.
OK, and let's not forget about The Weeknd and his well-being. It sucks seeing your ex-girfriend move on so fast and so publicly BUT it looks like the singer might be a little busy in the romance department as well. The Daily Mail snapped pictures of the artist hopping into a car with a mystery brunette on Nov. 9.
PLUS, he adopted a dog post-break up, which is kind of the equivalent of dying your hair a shade darker or getting a second ear piercing. We all have our ways of coping.
We'll have to see how Jelena develops, but in the meantime, major props to Gomez and The Weeknd for setting a gold star example for exes everywhere.