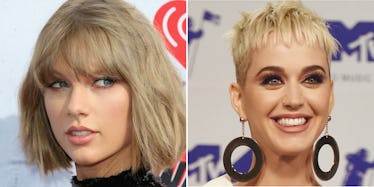 Here's The Ultimate Timeline Of Taylor Swift & Katy Perry's Feud
Frederick M. Brown/Frazer Harrison/Getty Images
Celebrity relationships and friendships are a rare breed. These famous faces have their lives played out in front of the masses, whether it's the good, the bad, or the straight-up shady. In Elite Daily's new series, It's Complicated, we're highlighting the biggest celebrity "feuds" that took over Hollywood and dominated our Sunday brunches for weeks on end. We'll take a deep dive into the lives and social media feeds of our favorite stars and dissect what happened in front of the camera, what went down behind the scenes, and everything you might have missed in between.
Katy Perry and Taylor Swift's feud has been going on longer than I care to remember. The singers still haven't settled their bad blood, and at this point, it looks like they never will. That's not to say their feud is so epically horrible that there's no chance of resolution — rather, the women are doing well for themselves and seem uninterested in reopening past wounds. Fair enough. Even though fans will likely never see a public conclusion to it, let's check out the timeline of Taylor Swift and Katy Perry's feud, even the golden years.
From 2008 to 2011, Perry and Swift were seemingly on great terms. There are plenty of photos of the two of them looking excited to see each other at award shows, and Swift even brought Perry on stage with her to perform during one of her concerts in 2010. Fast forward eight years, and American Idol contestants are bringing up the feud to Perry.
In a March 18, 2018, episode of the American Idol reboot (which is judged by Katy Perry, Lionel Richie, and Luke Bryan), a contestant said one of his favorite artists is Taylor Swift. He apologized to Perry for bringing her up, but Perry responded positively saying, "Oh, you don't have to be sorry!" The contestant said, "I love Taylor Swift." This is where people thought Perry threw shade at Swift. She replied, "I love her as a songwriter as well." That "as a songwriter" clarification had people thinking this was shade, but I think Perry was just being real.
If you really want to see what Katy Perry and Taylor Swift shading each other looks like, take a look at the timeline of their feud.
2008 To 2011: The Golden Years Where Katy Perry And Taylor Swift Were Friends, No Bad Blood To Be Seen
April 15, 2010: Swift Brings Perry On Stage To Sing "Hot N' Cold"
As part of Swift's Fearless tour, a concertgoer posted a video of Swift bringing Perry on stage to sing Perry's hit "Hot 'N Cold." The concert was at the Staples Center in L.A. on April 15, 2010. Up until this point and for a while after, things between Swift and Perry seemed totally amicable. But everything changed about four years later, when Taylor Swift spilled some reported tea about Katy Perry.
2014: Katy Perry Reportedly "Steals" Taylor Swift's Backup Dancers From Her World Tour, And Thus The Feud Begins
Taylor Swift revealed in a Sept. 8, 2014, Rolling Stone profile that there was one particular singer who made her question whether or not their friendship was real. It's been long-rumored that the singer Swift was talking about is Katy Perry, though Swift has never publicly clarified who that person is.
Swift told Rolling Stone, "For years, I was never sure if we were friends or not... She would come up to me at awards shows and say something and walk away, and I would think, 'Are we friends, or did she just give me the harshest insult of my life?'" She told the outlet that after a long period of questioning their friendship, this person reportedly acted in a way that made her feelings clear. Swift said,
She did something so horrible. I was like, 'Oh, we're just straight-up enemies.' And it wasn't even about a guy! It had to do with business. She basically tried to sabotage an entire arena tour. She tried to hire a bunch of people out from under me. And I'm surprisingly non-confrontational — you would not believe how much I hate conflict. So now I have to avoid her. It's awkward, and I don't like it.
Taylor Swift: "I'm surprisingly non-confrontational."
Also Taylor Swift: Writes "Bad Blood," "Look What You Made Me Do," and "Better Than Revenge."
But I digress.
Sept. 9, 2014: Katy Perry Posts A Cryptic Tweet The Day After Swift's Rolling Stone Interview Is Published
In September of 2014, Katy Perry seemingly reacted to Taylor Swift's Rolling Stone interview throwing major shade. She tweeted, "Watch out for the Regina George in sheep's clothing..." Perry didn't comment on who this tweet was about until an interview with Billboard in January of 2015.
Katy Perry did an interview with Billboard leading up to her 2015 Super Bowl Halftime Show performance. When asked to comment on the Regina George tweet, Perry didn't say Swift's name nor did she go into great detail about the reported feud. What she did say was, "​​If somebody is trying to defame my character, you're going to hear about it." This lead people to believe that Perry was acknowledging and confirming her reported feud with Swift.
Katy Perry's Super Bowl Halftime Show was on Sunday, Feb. 1, 2015. Her performance included appearances from Missy Elliot and Lenny Kravitz, but the real star of the performance was Left Shark. During the "California Girls" segment of the performance, Perry had two dancers dressed as sharks, and Left Shark became an instant meme. More on this in a minute.
May 17, 2015: The "Bad Blood" Music Video Drops
This is seemingly the biggest action Swift took in this feud. The parallels in the "Bad Blood" music video and Perry and Swift's complicated relationship are hard to ignore. The video starts with Taylor Swift and Selena Gomez's characters being friends, literal partners in crime, and then Gomez betrays Swift, leading to Swift bringing in an army of her most famous friends to help her win a battle with Gomez. Swift herself said that the feud with this unnamed singer started when she felt betrayed by someone she thought was her friend. So, it's easy to see why people immediately thought this video was about Katy Perry.
But Swift still maintains that the video is more about "the loss of a friendship" and not specifically about a person, let alone Perry. More on this later.
July 25, 2015: Taylor Swift Seemingly Throws Shade At Left Shark During Her 1989 Tour
To add more fuel to the theory that "Bad Blood" was about Katy Perry, Taylor Swift had someone dressed as a shark on stage while she performed "Bad Blood" on July 25, 2015, at one of her concerts in Massachusetts. This could've just been Swift joking about the rumors that the song is about Perry, but many fans took this as Swift throwing shade at Perry's Super Bowl Halftime Show performance.
Oct. 15, 2015: Swift Backtracked And Said People Misinterpreted Her Intentions About The "Bad Blood" Music Video
In an interview with GQ published Oct. 15, 2015, Swift addressed the widely spread theory that "Bad Blood" was about someone (eh hem, Katy Perry). This was five months after the video's release, long after the damage had been done and people were convinced the video was solely about her feud with Perry. She said in the interview, "You're in a Rolling Stone interview, and the writer says, 'Who is that song about? That sounds like a really intense moment from your life.'"
She continued,
And you sit there, and you know you're on good terms with your ex-boyfriend, and you don't want him — or his family — to think you're firing shots at him. So you say, 'That was about losing a friend.' And that's basically all you say. But then people cryptically tweet about what you meant. I never said anything that would point a finger in the specific direction of one specific person, and I can sleep at night knowing that. I knew the song would be assigned to a person, and the easiest mark was someone who I didn't want to be labeled with this song. It was not a song about heartbreak. It was about the loss of friendship.
Swift says she didn't intend for it to seem like it was about another female artist, but she also said she knew people would take it that way. So... was that a deliberate choice then? Many people still believe so, but Swift's explanation made it seem like she was trying to backtrack from that narrative because it ended up being controversial.
James Corden flat-out asked Perry to talk about her feud with Swift, and for once, she candidly addressed it, no holds barred. Referencing "Bad Blood," Perry said, "She writes a song about me, and I'm like, OK, cool, cool, cool. That's how you want to deal with it? Karma!"
She continued,
What I want to say is that, like, I'm ready for that B.S. to be done. Now, there is the law of cause and effect. You do something, and there's going to be a reaction. And trust me, daddy, there's gonna be a reaction ... It's all about karma, right? ... I think personally that women together, not divided, and like, none of this petty bullsh*t... women together will heal the world.
When "Swish Swish" first came out, many fans believed it was Perry's long-awaited musical response to "Bad Blood." With lyrics like, "A tiger don't lose no sleep, don't need opinions from a selfish or a sheep/Don't you come for me," it really seemed like she might be calling Swift out. Don't forget when she mentioned a "Regina George in sheep's clothing," which fans thought was aimed right at Swift. She also recruited Nicki Minaj for the song and video, whom Swift also had beef with in the past.
Before the music video came out, people thought she'd take the opportunity to shade Swift a lot. But the video actually turned out to be one giant "whatever," as it mostly made fun of feuds, heavily implying that fights like these are dumb and pointless.
Aug. 27, 2017: Taylor Swift Possibly Makes Tiny References To Katy Perry In The "Look What You Made Me Do" Music Video
During the 2017 VMAs, just three days after the "Swish Swish" music video dropped, Taylor Swift dropped the "Look What You Made Me Do" music video. The kicker: Katy Perry was hosting the VMAs that night, but she didn't address the feud after the video debuted.
While Swift's music video is widely theorized to be about Swift's feud with Kim Kardashian and Kanye West, people think there still were some tiny references to Perry in the music video. At one point in the video, Swift is seen driving a gold car that looks a lot like the one Perry was driving in the "Waking Up In Vegas" music video.
She's also holding a Grammy in this part of the video, which people took as shade toward Perry because Swift has won a lot of Grammys and Perry doesn't have any.
One eagle-eyed fan (or should I say eagle-eared?) also noticed that the beat in "Look What You Made Me Do" sounds a lot like a song in Mean Girls. And as we've already covered, Perry once tweeted to watch out for the "Regina George in sheep's clothing," and many felt that was talking about Swift. Then when she was asked about it later, she didn't exactly deny the rumors about her tweet's intentions. Based on this, some fans feel it's possible Swift was throwing shade at Perry with this Mean Girl-ish beat, but Swift has never commented on whether or not the song and video are about specific people, so this all remains speculation.
Now, it doesn't seem like Perry and Swift are ever going to bury the hatchet. Things seem to be at a standstill between the two. That doesn't mean they're still feuding, however. I genuinely think both women are just over it and fans on both sides will never see an official conclusion because, frankly, they're not obligated to give us one. Live and let live.