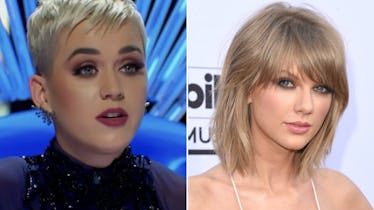 Katy Perry Threw Shade At Taylor Swift During 'American Idol' & The Video Is Too Much
ABC/Jason Merritt/Getty Images Entertainment
Some drama will just never die. That seems to be the case between famous frenemies Katy Perry and Taylor Swift. Perry has been doing her thing as a new judge on ABC's hit series American Idol, but I'll be damned if the ghost of Taylor Swift isn't still following her around. Now, there's a video of Katy Perry throwing shade at Taylor Swift from the show's judges' table, and it's kind of cringeworthy/awesome. You guys know what I mean.
Here's the drive-by on the epic Swift and Perry feud of the decade: Somewhere along the way, Perry and Swift developed a classic pop star friendship. Then, in 2014, Swift threw shade at Katy Perry in her "Bad Blood" music video after Perry "stole" some backup dancers from Swift's Red tour. Perry later told Carpool Karaoke host, James Corden, "Honestly, it's really, like, she started it, and it's time for her to finish it."
Perry then explained to Corden in full what really went down. According to the star, she had three backup dancers who asked if it was possible to tour with Swift during their off-season. Perry said it was no problem, but also wanted to ensure that whatever paperwork they signed would allow them to come back to her in a year or two. Through some sort of industry hullabaloo, the backup dancers were ultimately fired by Taylor Swift when they tried to rejoin Perry's show. Cue the "Bad Blood" music video.
Perry continued,
... She writes a song about me, and I'm like, OK, cool, cool, cool. That's how you want to deal with it? Karma!
However, Perry seemed ready to bury the hatchet once and for all. She told Corden,
What I want to say is that, like, I'm ready for that BS to be done. Now, there is the law of cause and effect. You do something, and there's going to be a reaction. And trust me, daddy, there's gonna be a reaction ... It's all about karma, right? ... I think personally that women together, not divided, and like, none of this petty bullsh*t... women together will heal the world.
Right, wouldn't that be nice?
Now, here we are. It's been four years since the release of "Bad Blood," and Perry still has to talk about her feud with Swift. It just won't stop.
During a round of auditions for American Idol, one contestant had the balls to bring up Perry's archnemesis. When the judges asked him, "Who do you look up to as an artist?" the contestant immediately replied, "Sorry for this, Katy... Taylor Swift."
In her defense, Perry handled it like a pro. She said, "Oh, you don't have to be sorry..." but she barely finished her sentence when the contestant emphatically explained, "I love Taylor Swift."
Perry cooly replied, "I love her as a songwriter as well."
Record scratch. Everyone OK?
Take a look.
As a songwriter.
TBH? I think it was kind of an awesome way for Perry to diffuse the situation. She didn't make the contestant feel weird. She didn't get weird. And, she didn't insult Swift. She simply stated some facts. Whether you love to hate or hate to love Swift, you've gotta admit, she can make one catchy tune.
The truth is, both Perry and Swift are thriving in their careers and this whole thing feels so four years ago. Both women have seemed to take ownership of their own reputations (get it?) and truly seem happy in their respective projects and music.
No word yet on what's in store for that brave (?) contestant's own music career. My guess? He didn't make it to Hollywood.
Check out the entire Gen Why series and other videos on Facebook and the Bustle app across Apple TV, Roku, and Amazon Fire TV.