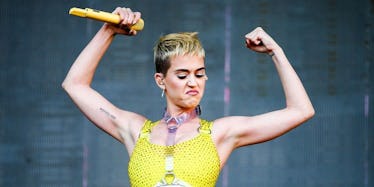 Katy Perry Is Reportedly Making An Insane Amount Of Money For 'American Idol'
Rich Fury/Getty Images
LMAO, GUYS. KATY PERRY IS LITERALLY MAKING MORE MONEY FROM ONE SEASON OF AMERICAN IDOL THAN I WILL IN MY ENTIRE LIFE.
This is the kind of money that makes me want to cry. And for her to make it in such a short amount of time makes me want to vomit.
Katy Perry was recently locked in as a judge for the new ABC reboot of American Idol, and I was kind of surprised to hear the news.
I feel like the show probably isn't going to be that popular, seeing as The Voice is dominating singing competitions right now.
The show is still trying to lock in Ryan Seacrest, but since I'm convinced he is literally the Illuminati, he's probably busy.
According to Perez Hilton, Katy is going to be making $25 million for being a judge. $25 MILLION. That's literally insane. Now I get why she said yes. I could never say no to that, f*ck.
Elite Daily reached out to Katy Perry's team for comment on the pay day, but they did not respond at the time of publication.
And according to TMZ, Katy had all of the leverage in pay negotiations because ABC was desperate to have a judge locked in by the time of its Upfronts last week.
One of TMZ's sources said,
Katy had all the leverage. If ABC ended up announcing the show without a judge, they'd be screwed.
Katy's newest single from Witness, called "Swish Swish," dropped last week and everyone's thinking it's a Taylor Swift diss track. It features a verse from Nicki Minaj, the queen of diss tracks.
The first verse goes:
A tiger Don't lose no sleep Don't need opinions From a shellfish or a sheep Don't you come for me No, not today You're calculated I got your number 'Cause you're a joker And I'm a courtside killer queen And you will kiss the ring You best believe
DAMN, KATY.
The chorus goes:
Swish, swish, bish Another one in the basket Can't touch this Another one in the casket
According to TMZ, Ryan Seacrest and J. Lo were making $15 million at their American Idol peak, so yeah, I would call Katy's $25 million paycheck a definite "swish."
If you'll excuse me, I'm going to go count all of my money. I'll be back in 30 seconds because all I have is $5 in cash.
Hahahahaha, everything's fine, shut up.
Swish, swish, bish.
Citations: Holy Shit! Katy Perry Is Making HOW MUCH From American Idol?? (Perez Hilton)