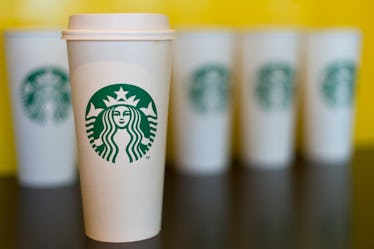 The Strongest Starbucks Drinks That Will Actually Keep You Awake, Ranked
Ben Pruchnie/Getty Images News/Getty Images
I am completely unashamed to say that Starbucks is one of my favorite places on earth for a multitude of reasons. Aside from the fact that I can literally get whatever my heart desires, Starbucks' strong, caffeinated drinks are like heaven — and to be honest, that's all I ever really need for a successful day. If life is getting you down, or if you just need coffee to give you a little extra energy, this list of the strongest Starbucks drinks will most definitely pick you up.
It's pretty hard for me to pick my favorite Starbucks drink because it all depends on what I'm in the mood for. When I'm feeling like getting a little cozy, I'll most likely order a soy latte — and if I'm feeling super active, there's definitely a chance I'll be ordering something with matcha or espresso in it. My order always depends on my mood and — most importantly — how much caffeine I'm looking for.
Since caffeine pretty much fuels my entire day, I looked into which drinks I can rely on to have the most oomph to them. Aside from keeping you bright-eyed and bushy-tailed, the most caffeinated drinks at Starbucks are also guaranteed to be really freaking delicious.
This article was originally published on