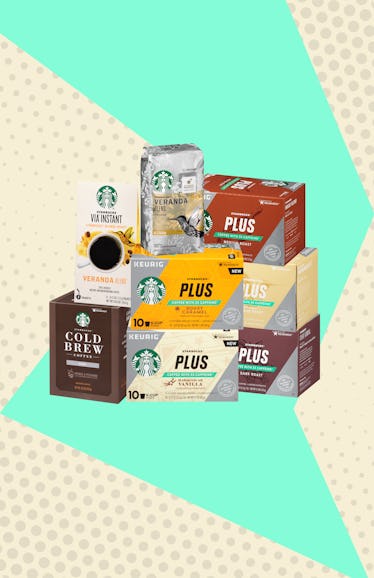 You Can Enjoy These New Starbucks Drinks Packed With Caffeine From The Comfort Of Home
Courtesy of Starbucks
Wake up and smell the flowers, people! Spring is here, and the days are only going to get longer. You know what that means: More time to play, work, and do whatever else you love to do with endless amounts of daylight. More hours in the day also means another thing — people need more energy to function. Enter coffee, aka life's most powerful and coveted elixir. If you're looking for popular coffee drinks that will keep you going all day, look no further than these at-home Starbucks drinks with the most caffeine, because sometimes a Starbies run is too much work, and the need for caffeine is immediate.
Starbucks has a ton of new products just in time for spring, all of which contain ample amounts of caffeine. For example, if you find yourself at a cafe location, you'll definitely want to try one of Starbucks' two new Cloud Foam drinks. The Iced Caramel Cloud Macchiato and Iced Cinnamon Cloud Macchiato — both fluffy, sweet cups of coffee goodness — contain 150 milligrams of caffeine in their grande versions, which is about 55 more milligrams than your average cup of coffee.
But if you're looking for a Starbucks drink with a lot of kick that you can make or enjoy at home, look no further than these drinks that offer tons of caffeine per sip — and you can find them right in your grocery store. You won't regret it.