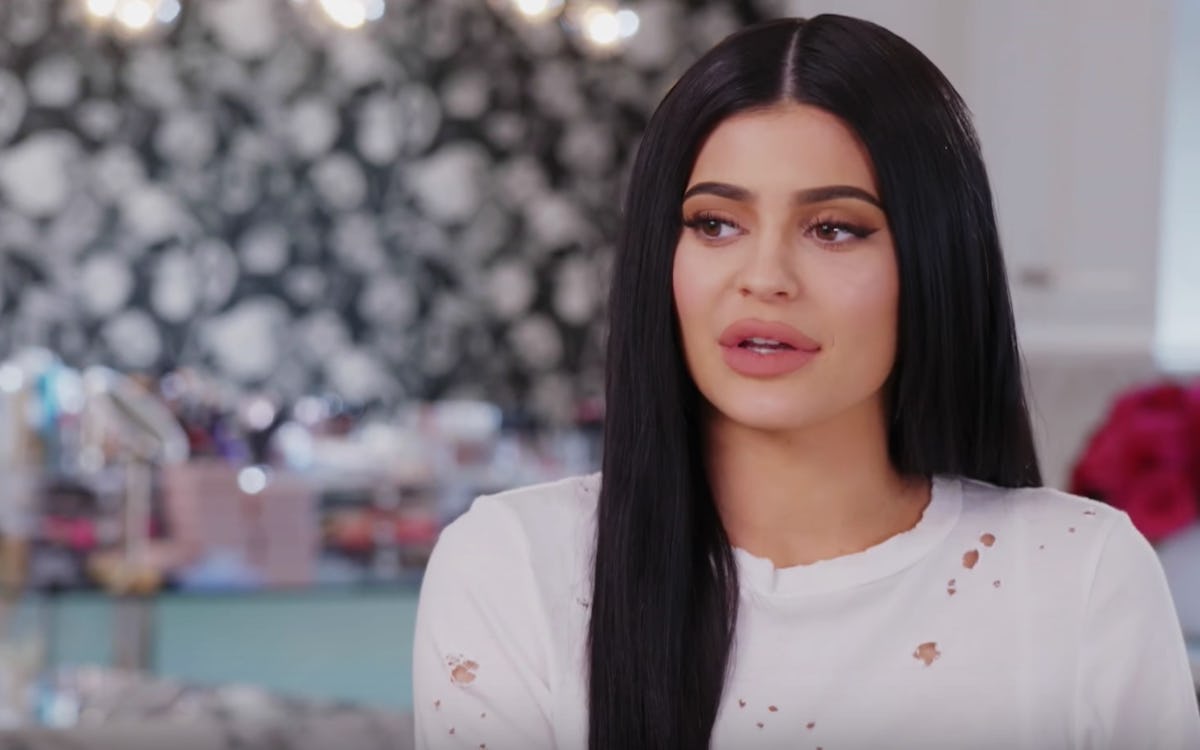 Here Are Kylie Jenner's Best Moments From 2017 Because We All Know You Wanted Them
YouTube
Never has anyone ever had a more intense year than the one Kylie Jenner just had. Beyond being the youngest member of the world's most famous family, Jenner spent 2017 spearheading her Kylie Cosmetics company, launching her own television spinoff, maintaining her place as one of the world's most followed social media stars, and oh yeah, reportedly getting pregnant. I have so many favorite 2017 Kylie Jenner moments, it's hard to keep track.
Beginning her life on television as one of the more low-key Kardashian/Jenner members, Kylie and big sis Kendall have slowly made their way to the forefront of their family escapades and the public's eye. Beginning sometime around her lip transformation, Jenner caught our attention in a big way and we haven't looked back — or away — since. It's truly been a wild ride keeping up with this one, but my god, I've loved every minute of it.
2017 was one of our favorite Kylie years yet, and I took it upon myself to carve out some time in my very important and busy life to gather a few of my top Kylie things this past 365 days.
Here's a look back at some of her best major moments.
1. (Maybe) Getting Pregnant
LET'S START WITH THE MOST OBVIOUS. In September 2017, news broke that Jenner was reportedly pregnant with boyfriend Travis Scott's baby. Nothing has been confirmed yet by Jenner or her family, but nothing has been denied, either. (Which is basically the same thing as confirming... right?)
According to reports, we can expect the bundle of joy to arrive in February 2018.
BEST KYLIE THING OF THIS YEAR!
2. The Premiere Of Life Of Kylie
You asked for it, and she delivered. This year, Jenner made her debut in her own Kardashian series spin-off, Life Of Kylie.
Her fans totally loved every minute of the eight episodes because they were able to peek into her daily, wild life. Her best friend, Jordyn, had some major airtime, and we learned that Jenner is just your average girl... just super rich, super famous, and living a totally unique, one-of-a-kind lifestyle. You know how it goes.
SECOND BEST KYLIE THING THIS YEAR!
3. Her Serious Met Gala Moment
I mean, can you guys even with this look?
We were given a sneak peek into Jenner's fashion decision-making process when she landed on this incredible look from Versace during Life Of Kylie. While we're used to seeing big sister Kim rock the red carpet and that intense eye gaze thing, watching Kylie strut her stuff on America's largest night of fashion was nothing short of iconic.
That hair. That fringe. That waist. I die.
THIRD BEST KYLIE THING THIS YEAR!
4. Her Wax Statue At Madame Tussaud's
Nothing says, "Hi, you've made it," like getting your own wax statue at Madame Tussaud's Museum. This summer, Jenner received her own figure that is rocking her real Balmain dress from the 2016 Met Gala.
When her clone was revealed, Jenner exclaimed, "This is actually really freaky."
FOURTH BEST KYLE THING THIS YEAR!
5. Breaking Up With Tyga
Well, depends on how you feel. For some millennials, Jenner and Tyga will always be the Ross and Rachel of our time. For others, Jenner making the decision to break free from her long-term relationship with the rapper was a liberating experience.
Because the two were together for so long at such a young age, some feel she may have missed important milestones in her teenage years. Now, she's free to do and date (and maybe get pregnant with) whoever she wants!
FIFTH BEST KYLIE THING THIS YEAR!
6. All Those Kylie Cosmetics Holiday Special Kits
You know, we thought it was great enough when she dropped her very first Lip Kit. Since then, Kylie Cosmetics has been upping its game so hard and just devouring all of our money.
This year, Jenner gave us epic kit specials like her Vacation collection, Birthday collection, and now her Holiday collection.
I love to love me some matte lippie, ya feel me?
SIXTH BEST KYLIE THING THIS YEAR!
Kylie girl, it's been so real. We are dying to see what the new year brings you (a baby!) and hope whatever it is (a baby!) you keep us posted (on your baby!).
Happy New Kylie Year, everyone!
Check out the entire Gen Why series and other videos on Facebook and the Bustle app across Apple TV, Roku, and Amazon Fire TV.