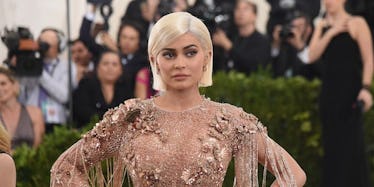 10 Kylie Jenner Quotes That Prove 'Life Of Kylie' Will Be The Best Kardashian Spin-Off Yet
Nicholas Hunt
For Kylie Jenner, 2016 may have been the year of realizing stuff, but 2017 is the year of doing things -- like reality shows. She's always been a background character on Keeping Up With The Kardashians, but in her new series, Life of Kylie, she takes center stage. The youngest member of the Kardashian Klan can be pretty dry and often says some ridiculous sh*t. Let's take a look at some of Kylie Jenner's best quotes to help get us excited for the premiere of Life of Kylie. 
To start off, this Kylie quote about her makeup empire really sums things up. As we all know and love, Kylie Lip Kits have become one of the most constant things in our society. It's no secret Kylie is into lips, and we're into her:
Lips are kind of like my thing, and I've always been obsessed with lipstick and lip liner. I just always went to lip liner to overline my lips, and I feel like I was really known for that. I can't walk out of my house without my lipstick!
Lips, indeed, are kind of her thing.
Moving on...
Chemtrails
You know the conspiracy theory that the government is spreading unknown bio agents across the sky via those white trails that follow air planes? No? Well, Kylie's here to tell you all about it.
"Is something being exterminated here? Is that something me?"
Let's just move on. Solid tweet, Ky.
"When I'm, like, 30, I want to go off the map, have a family and live in Malibu with a farm, and just raise my own chickens."
Understandable. I think if I was as famous as Kylie and got as much flak as she does for doing just about anything, I'd probably want to retire at 30 and live in Malibu with my chickens, too.
"I would seriously stab myself… Nobody is staying at my house."
This was Kylie's reaction when Kim suggested that they move in together while her house is being renovated. Clearly Kylie was not a fan of the idea. Not pulling any punches today.
"I feel like, as I get older, I don't laugh really hard, to the point where you cry… You just don't find things as funny."
This is sad. I want to tell Kylie that adults do still laugh like that and she just needs to find funnier friends.
"If I'm going to see people, I won't wear heavy makeup."
Yes -- here's to only going full glam for Instagram! Kylie said this in a New York Times interview and it's good to know she doesn't walk around will a full face every day.
"I'm not materialistic. I love clothes and all that stuff, but I don't need it to live.
You know the old saying: Don't judge a book by its Snapchat. Apparently, that's about Kylie Jenner because despite constantly pimping out her cars, purses and other, well, materials, on her social media, Jenner insists she doesn't need the stuff to survive. OK.
"I know how influential I am over my fans and followers. I feel like everything I do, my hair color, my makeup, I always start these huge trends, and I don't even realize what I'm capable of."
Jenner landed on Time magazine's most influential teens list in 2015, and some were wondering what exactly she had done to be listed next to likes of Malala Yousafzai and Katie Ledecky. Her answer? Guys, I'm pretty influential. Remember the Lip Challenge?
"I'm obsessed with Lady Gaga. I saw her at the Alexander Wang fashion show after-party, and I think she's the nicest person ever."
I haven't heard any of the other Kardashian/Jenners speaking publically about Lady Gaga so Kylie's my new favorite now
"Having a reality TV show, everyone feels like they know you, but that's only 10 percent of my life. There's a whole other side of me that people don't see."
Jenner is definitely talking about Keeping Up With The Kardashians here, which she's been on since she was 9, but we have to wonder is Life of Kylie going to be the same way. I kinda hope we get more of an all-access pass.
"There are new rumors about me every day."
And with Life of Kylie, there's sure to be many more.