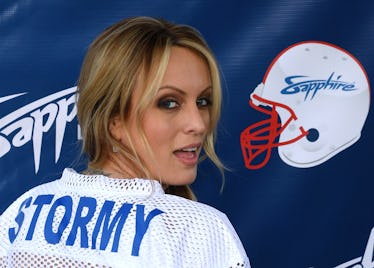 Stormy Daniels Plans To Donate $130K To Planned Parenthood In Trump's Name, & I Can't
Ethan Miller/Getty Images Entertainment/Getty Images
I challenge you to name one recent topic that's been as entertaining as the latest news surrounding Stormy Daniels and President Donald Trump. Sure, Kanye West's return to Twitter or Beyoncé's epic Coachella set are close contenders, but you've gotta admit: all this drama that the president is involved in takes the cake. In the latest turn of events, Stormy Daniels plans to donate $130,000 to Planned Parenthood in Trump's name, and I can't even comprehend this level of pettiness.
Back in March, Daniels decided to sue Trump to dispute the terms of the "hush agreement" she signed, allegedly in exchange for silence on her alleged affair with the now-president. Daniels (whose real name is Stephanie Clifford) received $130,000 from Trump's lawyer Michael Cohen to sign the non-disclosure agreement (NDA), however, she and her lawyers now argue that the agreement is "null and void" because Trump never signed it. Trump has denied both the alleged affair and knowing about the payment.
But on April 17, The Hill reported that, in an upcoming feature article, Daniels told Penthouse Magazine that she would donate $130,000 to Planned Parenthood in Trump and Cohen's names — the total amount of the NDA agreement — if she wins her lawsuit against the men. Daniels will reportedly be on the cover, which shows her with an American flag and the headline, "Penthouse Pet of the Century: Getting Intimate With the Most Wanted Woman in America," next month. And IDK about you, but I'm gonna need to get my hands on a copy for more deets ASAP.
The thing is, Trump has continuously denied, discredited and straight-up ignored Daniels' and her claims since she went public. So, coupled with Trump and his administration's anchored pro-life views and work to defund Planned Parenthood, the potential donation to the organization is seriously petty.
For example, on January 19, Trump gave a speech at the annual anti-abortion rally March for Life, in which he repeated his administration's stance on abortion. He stated, "Under my administration, we will always defend the very first right in the Declaration of Independence, and that is the right to life." He added, "You love every child, born and unborn, because you believe that every life is sacred. And we are with you all the way. May God bless you." And back in March 2016, The New York Times reported that Trump had suggested that, if abortion was banned, women who got the procedure should be subjected to punishment. He later retracted his statement, saying the doctor who performed the procedure should be punished, but you never really know what's gonna happen when it comes to Trump.
And oh yeah, the Trump administration has also moved to make it easier for states to deny Planned Parenthood funding, rolling back Obama-era guidelines. So, this move by Daniels isn't exactly subtle.
Daniels has also shaded Trump and his lawyer on how they deal with women. On April 16, she appeared at Cohen's hearing in New York and slammed the lawyer over his treatment of "women like me." She said:
He has never thought that the little man, or especially women, and even more, women like me, mattered. That ends now. My attorney and I are committed to making sure that everyone finds out the truth and the facts of what happened. And I give my word that we will not rest until that happens.
The statement comes a week after Cohen's home, office and hotel room were raided by FBI agents who seized documents related to Trump and Daniels, which is reportedly why she showed up to the hearing.
This latest news also comes right off of Daniels' appearance on the daytime talk show The View. On April 17, Daniels opened about her and Trump's alleged affair, which reportedly happened back in 2006 shortly after his wife Melania gave birth to their son, Barron.
During her appearance on The View, Daniels also released a composite sketch of man she claims threatened her in 2011 over her decision to talk about the alleged affair, which prompted social media users to share the image on their feeds.
One user reportedly tweeted a message to Trump that included the sketch, which caused the president to acknowledge the adult film star and her allegations on Twitter for the very first time. He tweeted, "A sketch years later about a nonexistent man. A total con job, playing the Fake News Media for Fools (but they know it)!"
Daniels really knows how to push Trump's buttons. It's so strange how he was once entirely mute on anything relative to her and now he's dropping little cues and comments to let us know how he really feels. While he hasn't said anything on her promise to donate to Planned Parenthood, I'm guessing we'll get some kind of shade from him in no time.