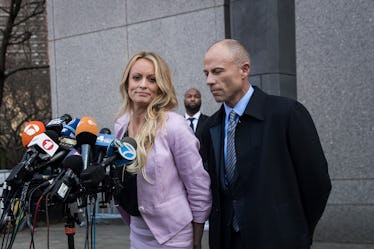 Stormy Daniels Slammed Trump's Lawyer For How He Treats "Women Like Me" & Hoo Boy
Drew Angerer/Getty Images News/Getty Images
On Monday, April 16, Stormy Daniels appeared for a hearing for President Donald Trump's personal lawyer Michael Cohen at a federal courthouse in downtown Manhattan. Following the hearing, the adult film star made a statement to the press alongside her attorney Michael Avenatti. And in that statement, Stormy Daniels slammed Michael Cohen for how he's treated "women like me" — so things could be getting very ugly, very fast.
Daniels (whose real name is Stephanie Clifford) arrived at the hearing in the late afternoon and spoke to the press once she left a couple of hours later. Although she declined to answer any questions from reporters, Daniels did make a very aggressive statement against Cohen. She said,
For years, Mr. Cohen has acted like he is above the law. He has considered himself, and openly referred to himself, as Mr. Trump's fixer. He has played by a different set of rules — or should we say, no rules at all. He has never thought that the little man, or especially women, and even more, women like me, mattered. That ends now. My attorney and I are committed to making sure that everyone finds out the truth and the facts of what happened. And I give my word that we will not rest until that happens.
Woah.
It really sounds like Cohen is swimming in the deep end right about now. This statement comes one week after Cohen's office and personal residencies were raided by FBI agents. The search and seizure warrant was granted to prosecutors in New York with assistance from both Special Counsel Robert Mueller and Deputy Attorney General Rod Rosenstein. The seized documents reportedly are related to the ongoing legal battle between the president and Daniels, among other topics of interest.
Which is why Daniels was present at the hearing today. The raid on Cohen proves that this war between Trump's and Daniels' legal teams is escalating very, very quickly. And by the sound of the statement that Daniels made today, it sounds like the case of her alleged affair with the now-president isn't the only piece of drama we're likely to hear when it comes to Michael Cohen.
On Jan. 12,The Wall Street Journal reported that Cohen had paid Daniels $130,000 shortly before the 2016 presidential election, reportedly to keep quiet about an alleged affair she had with Trump. Cohen denied the allegations at first, but later said that he did make the payment out of his own pocket, and that President Trump was not involved. Trump has denied the allegations of an affair, and said that he did not know about the payment Cohen allegedly made to Daniels.
Daniels responded to the media frenzy around the reports concerning the alleged affair by suing the president on March 7, claiming that the nondisclosure agreement Cohen arranged for her is invalid because Trump himself never signed the document. Daniels also reiterated her claim in the suit that she and Trump had an "intimate relationship," beginning in 2006 which continued "well into the year 2007."
Daniels also chose to sue Cohen for defamation. Daniels' lawyer filed the court documents claiming that statements Cohen made concerning Daniels' claims about the alleged affair are damning to her and her reputation. In the court documents Daniels' attorney states,
Ms. Clifford has suffered damages… including but not limited to, harm to her reputation, emotional harm, exposure to contempt, ridicule, and shame, and physical threats to violence to her person and life.
Daniels is clearly very personally invested in this case against Cohen and will be playing an active role in its development moving forward — and I'll definitely be playing close attention to how this pans out.