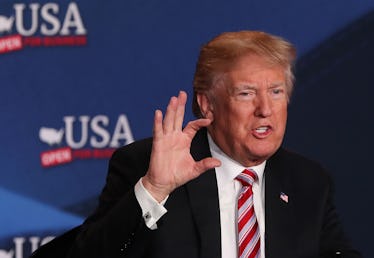 Trump Finally Tweeted About Stormy Daniels In Total Trump Fashion
Joe Raedle/Getty Images News/Getty Images
President Donald Trump has always had a knack for tweeting about anyone he does not like, but there's long been one exception. Ever since reports about an alleged affair with Stormy Daniels broke, the president has avoided the subject. That is, until now. On Wednesday, April 18, Trump's tweet about Stormy Daniels amounted to an aggressive push back against one of her key claims.
It all started when a user directed a message about Daniels to the president. The message featured an image that showed the sketch of a man Daniels described as someone who allegedly threatened her and her daughter on behalf of Trump.
Trump then responded to the user, "A sketch years later about a nonexistent man. A total con job, playing the Fake News Media for Fools (but they know it)!"
The president may not have referred to Stormy Daniels by name, but the tweet does mark a major shift from how he's managed to maintain a distance from the subject of her allegations, despite him being at the center of the story.
Before his tweet on Thursday, just about the only thing of note Trump has said about Stormy Daniels is one word: "no." That's what the president told reports after he was asked during a flight on Air Force One whether he knew about the $130,000 that longtime Trump lawyer Michael Cohen made to Daniels. The White House has also continuously denied an affair happened, while Cohen said that Trump had no knowledge of the payment made to Daniels.
But then came the tweet.
Below are both the original message to which Trump replied, and the president's response itself.
In March, during an interview on 60 Minutes, Daniels alleged that, in 2011, a random man approached her in a parking lot, threatening her and warning against going public with a story about Trump.
Daniels — whose real name is Stephanie Clifford — told Anderson Cooper, "A guy walked up on me and said to me, 'Leave Trump alone. Forget the story.' And then he leaned around and looked at my daughter and said, 'That's a beautiful little girl. It'd be a shame if something happened to her mom.' And then he was gone."
She later added, "I was rattled. I remember going into the workout class. And my hands are shaking so much, I was afraid I was going to drop her."
2011 was also the year during which Daniels gave an interview to In Touch magazine. In the interview, Daniels tells the story about her alleged affair with Trump, describing her account of how she met him and other claims about the relationship.
"It was a charity golf tournament in Lake Tahoe," Daniels is quoted as saying. "I guess he was there to play golf, and I was there because the company I worked for was doing an appearance in the gift room. The first time I met him was actually out on the course. They brought us out to ride around and he kept looking at me and we were introduced."
On Tuesday, April 17, Daniels appeared on ABC's The View with her lawyer Michael Avenatti, and spoke about the alleged threat against her. Before a studio audience, Daniels said she did not report the incident to police, but maintains that she'd be able to recognize the man who allegedly threatened her.
"I would know it right away," she said. "Even now, all these years later. If he walked in this door right now, I would instantly know."
Daniels also released a sketch of the man, and offered a $131,000 reward for anyone who could identify him. While it's unclear whether or not Daniels has gotten any responses related to her search for the man, it's clear that President Trump thinks she won't get any.
That's because after months of avoiding talking about Stormy Daniels and an alleged affair with the former adult film star, the president finally addressed the subject in trademark fashion, calling her story of a threat made against her "fake news."