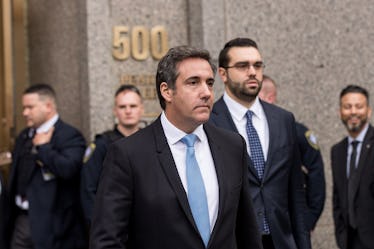 President Trump's Personal Lawyer Is Being Investigated For These Reasons
Drew Angerer/Getty Images News/Getty Images
Since the beginning of the year, Michael Cohen has been one of the most talked about names in national news media, but for unflattering reasons. Cohen — one of President Donald Trump's most trusted lawyers — owes the infamy to the litany of reports connecting him to former adult film star Stormy Daniels, but that connection alone doesn't explain why the FBI is interested in the attorney. So, when news broke that the lawyer's New York office had been raided by federal agents, it prompted the question: Why exactly is Michael Cohen being investigated?
The reason is related to Daniels, but not fully.
On Monday, April 9, The Washington Post reported that Cohen was allegedly under federal investigation for possible bank fraud, wire fraud, and violations of campaign finance laws. Elite Daily reached out to Cohen's attorney for comment on this investigation, but did not hear back at time of publication. During the raid of Cohen's office, federal agents seized records concerning his personal finances, including records related to a $130,000 payment to Stormy Daniels, The Post reported.
For context, flashback to January.
The details of that $130,000 payment first came to light 12 days after the new year, when The Wall Street Journal reported that Cohen facilitated a payment to Stormy Daniels — whose real name is Stephanie Clifford — allegedly in exchange for Daniels not going public with details of an alleged affair with Trump.
A month later, Cohen would admit that he did indeed pay Daniels $130,000, but said that he did so with money out of his own pocket.
"Neither the Trump Organization nor the Trump campaign was a party to the transaction with Ms. Clifford, and neither reimbursed me for the payment, either directly or indirectly," Cohen said in February, in a statement to The New York Times. "The payment to Ms. Clifford was lawful, and was not a campaign contribution or a campaign expenditure by anyone."
The Times reported that Cohen said he sent a similar statement to the Federal Election Commission (FEC) in response to a complaint that he violated campaign finance laws.
Now fast forward to April, and a suspicion of violating election laws is one of the reasons The Washington Post reports Cohen has become a target of investigators.
Days later, on Friday, April 13, the Department of Justice (DOJ) said that Cohen had been "under criminal investigation" in New York for months, with the investigation related to his business transactions. In conducting the investigation, FBI agents not only searched Cohen's home, hotel room and office, but they also seized records from his laptop, mobile devices and a safe deposit box, The New York Times reports.
The long story short? Federal investigators in New York have had their eyes on Michael Cohen for months, according to the U.S. Department of Justice, with concerns that he has done something illegal in conducting personal business. Also related: One of Cohen's business transactions happens to be the $130,000 paid to Stormy Daniels, a payment that was reportedly made using a private limited liability company (LLC).
On Monday, April 16, Cohen, his lawyers and lawyers for President Trump headed to federal court in Manhattan. They were there to appeal to a judge, asking to have a chance to review records that federal agents seized. The presiding judge, Kimba Wood, did not grant that request — at least not yet — but the judge did require Cohen to disclose who his third client is.
Before Monday, it was known that Cohen had represented three clients in the past few years: Trump, Republican donor Elliott Broidy, and a third unnamed person. After Monday, it was revealed that the third person is Fox News host Sean Hannity. During the Monday night broadcast of his prime time show, Hannity tried to distance himself from Cohen, telling viewers that he only consulted the lawyer for his opinion.
Trump, however, can't do the same, at least not convincingly. Michael Cohen has long been described a personal "fixer" for Trump. Now, that fixer is under federal investigation.