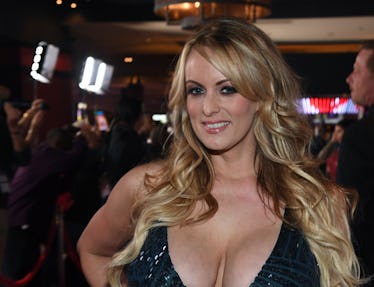 These Memes About The Stormy Daniels Suspect Sketch Will Make You Laugh So Hard
Ethan Miller/Getty Images Entertainment/Getty Images
Social media users can never take anything seriously. And not that I'm complaining, because I often get a rise out of seeing what the newest viral meme is, but the latest one was created out of a really urgent matter. Stormy Daniels shared a composite sketch of the man she said threatened her over her affair allegations with President Donald Trump and Twitter users immediately went into a frenzy over the drawing. As much as I feel like I shouldn't be laughing at the memes about the Stormy Daniels suspect sketch, I honestly can't help it.
On April 17, Daniels, whose real name is Stephanie Clifford, appeared on The View to discuss her alleged affair with Trump, CNN reported. There, she also shared a composite sketch of the unidentified man who she claims threatened her in 2011 to leave the now-president alone. She said that anyone who can positively identify the perpetrator will be rewarded $100,000, which prompted viewers to share the sketch on social media in efforts to see if anyone else had any ideas on who the man could be.
So, of course, the drawing came across the timelines of conspiracy theorists and meme creators, who had quite a few, shall we say, less than likely ideas about who the man might be. Ah internet, you do me proud.
Tons of Twitter users guessed that it was Tom Brady.
Others had even more hilarious guesses, too.
OMG. Can you imagine what Trump would say if he saw this?? Someone @ him.
L-O-L at Lord Farquaad. I'm so done, you guys.
But now that we've all gotten our laughs out of the way, let's dig into this situation a little deeper. All of this comes from an encounter Daniels said happened in 2011. On March 25, during an interview with Anderson Cooper on 60 Minutes, the adult film star claimed she had been threatened by an unknown man after she agreed to come forward with her story about the alleged affair, which reportedly happened in 2006. Trump has continuously denied Daniels' claims, and the White House has deemed the accusations as "not accurate." However, Daniels has maintained her allegations against the president.
She said of the alleged 2011 incident,
A guy walked up on me and said to me, 'Leave Trump alone. Forget the story.' And then he leaned around and looked at my daughter and said, 'That's a beautiful little girl. It'd be a shame if something happened to her mom.' And then he was gone.
The story is definitely a juicy one. Back in January, The Wall Street Journal reported that Trump's lawyer, Michael Cohen, had paid Stormy Daniels $130,000 to keep quiet about her alleged affair with the business mogul. The payment was given to Daniels just 11 days before the presidential election, which raised questions about whether the transaction violated campaign finance laws.
But Cohen insisted that he'd paid Daniels out of his own pocket and that Trump had nothing to do with it. It's a claim that's a little hard to believe if you ask me, because on April 9, the FBI raided Cohen's home, office and hotel room and reportedly seized information related to the actress, according to CNN.
Trump's lawyers have also threatened Daniels with financial ruin over her allegations, with Cohen telling Vanity Fair that any time Daniels speaks on the subject, it's "just another breach [of a non-disclosure agreement] by Ms. Clifford and will only further increase the damages I will be seeking pursuant to the agreement."
I assume that the memes aren't gonna stop until all of this is over. But then again, for all of us meme enthusiasts, that's not necessarily a bad thing, huh?