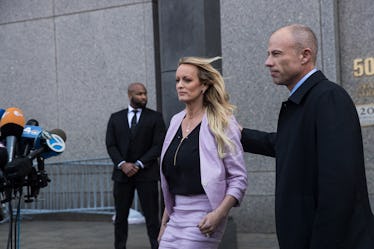 Stormy Daniels Clapped Back At The Idea She's Only In This For The Fame
Drew Angerer/Getty Images News/Getty Images
Stormy Daniels isn't here for any criticism regarding her motives for going public with her claims against President Donald Trump, and she's not afraid to let people know. On Tuesday, April 17, the adult film star was visiting The View to discuss her alleged affair with the president when co-host Meghan McCain suggested that Daniels had benefited from the attention she's received amid the allegations — a suggestion which the actress immediately rebuffed. Stormy Daniels' The View appearance proves just how much she's over hearing these kinds of statements.
According to Jezebel, McCain offered up clichés about women, attention, and sex work throughout the interview before reducing Daniels' claims against Trump as a "publicity stunt." She began, "It seems like a publicity stunt on some level."
She continued, "It does seem like you're benefitting a lot. You've gone on your 'Make America Horny Again' tour, I'm sure you're making a lot of money, no disrespect... I hadn't heard your name until all of this happened and now you're literally live on The View giving an entire interview to us."
Daniels, whose legal name is Stephanie Clifford, responded by saying that she hadn't come up with the name of her tour and thought it was "awful" and "cheesy." And as far as benefitting from the ordeal, Daniels stated,
Yes, I've gotten more bookings than usual, but I'm doing the job that I've been doing for the last, almost, twenty years. Yes, there's a lot of publicity but I didn't do it for that because this isn't what I want to be known for.
Daniels described the situation as "overwhelming, intimidating, and downright scary a lot of times" — aka totally not worth putting herself in harm's way for a quick 15 minutes of fame.
Since Daniels came forward with her story, she's allegedly encountered some pretty serious threats, which would make me think that this thing is deeper than obtaining fame and fortune. For example, on March 25, Daniels appeared on 60 Minutes to discuss her alleged affair with the president, which reportedly occurred in 2006 while his wife Melania was pregnant with her and Trump's son, Barron. Trump has continuously denied Daniels' claims altogether, with the White House maintaining that the claims she made in the interview are "not accurate."
In the interview, Daniels claimed that she had been threatened by an unknown man in 2011 after agreeing to talk about the alleged encounter. She said,
A guy walked up on me and said to me, 'Leave Trump alone. Forget the story.' And then he leaned around and looked at my daughter and said, 'That's a beautiful little girl. It'd be a shame if something happened to her mom.' And then he was gone.
This all started back in January, when The Wall Street Journal published a story alleging that Trump's lawyer Michael Cohen had paid Daniels $130,000 in 2016 — just 11 days before the presidential election — to stay silent about an alleged affair with the now-president. And it's been a complete mess from there: Cohen admitted to the payment but insisted he had paid Daniels out of his own pocket and that it had nothing to do with Trump, which ultimately led to the FBI raiding his home for info related to the transaction. Daniels has been threatened with financial ruin by Trump's lawyers. And many have wondered if Cohen's payment violated campaign finance laws, which could have a really terrible outcome for Trump, if proven to be true. However, Trump has denied knowing about the payment.
This drama doesn't look like it's ending any time soon, but at least Daniels is standing up for herself and making her intentions as clear as possible. Maybe — just maybe — this latest appearance will set the precedence for interviews in the future.