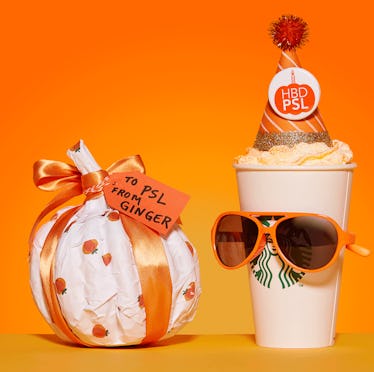 Pumpkin Spice Whipped Cream Is Coming To Starbucks, But It Won't Be Here For Long
Just when you got accustomed to your morning cup of Joe, everyone's favorite coffee chain decided to throw a curveball and change the game. If you've made the PSL a go-to, you can delight in the fact that pumpkin spice whipped cream will be available at Starbucks, which will really kick your fall state of mind into high gear. Everyone hail to the pumpkin treat, now.
The creamy goodness atop of the classic fall drink consists of pumpkin, cinnamon, ginger, nutmeg, and clove. Its orange hue is the perfect way to add some spooks to your day (and some likes on your Instagram). Is there a more appropriate way to get into the Halloween spirit? Obviously not.
But if you're looking for all-pumpkin spice everything, you're going to have to act fast. In honor of the drink's 14th birthday (14 — can you believe it?) stores will replace the typical whipped cream with the gorgeous pumpkin spice whipped cream, which was originally unveiled last year. Get to your neighborhood Starbs' anywhere between Oct. 5 and Oct. 8 to get an extra helping of pumpkin spice. Yes, a dollop of that orangey-goodness is clearly a necessity for this time of the year.
Naturally, people have some strong feelings about the limited-time treat... even the naysayers.
But no one can rain on pumpkin fans' parades. Aside from the glorious orange whipped cream, those who love the flavor have been blessed with even more ways to enjoy it this year. It seems more than ever, pumpkin is making its way into every facet of our lives, starting with coffee. A pumpkin spice sauce was released at Starbucks earlier this year, teasing fans before the PSL's arrival. The oh-so-lovely drink now comes in a bottled form, so if you're really in a rush and need your PSL to go, you have the option.
But just including pumpkin in coffee would be doing a disservice to basic girls everywhere. Fortunately, the flavor has taken over pretty much anything you could possibly imagine. Need to feel fresh before taking on your day? There's pumpkin spice deodorant for that. Want to pay homage to your favorite season? Ask your hair colorist to give you a pumpkin spice ombré 'do, which are all the rage for your creepy and kooky festivities. Heck, even man's best friend can enjoy a PSL, so it's basically Starbucks' world and we're just (blissfully) living in it.
Naturally, a PSL drink must be accompanied by a PSL treat. Fortunately, there are plenty of pumpkin snacks to satisfy your sweet tooth this season, from cereal, bread, oatmeal, and anything (and everything) in between. Other chains are getting in on the Halloween action, like Auntie Anne's, which just started serving pumpkin spice pretzel nuggets. If this isn't going to be your snack of the season, I'm pretty sure we can't be friends. If you're looking to host a wild costume party, pumpkin spice vodka is going to be a must for bizarre concoctions (if you're 21+ that is).
Now that the first week of October is officially upon Halloween fans and Debby Downers alike, channel your astrological sign to see what the stars have in mind for you — perhaps they'll guide you to the perfect fall treat. Maybe, just maybe, all the change that's in store for you this week means that you'll switch up your Starbucks order to a grande Maple Pecan Latte instead of a PSL... or possibly, since you cannot forgo that orange whipped cream, you're going to have to order both treats. I personally cannot think of a better way to celebrate fall than that.