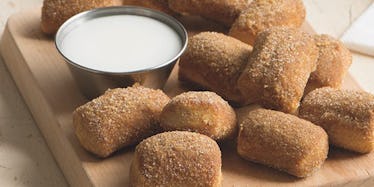 Auntie Anne's Pumpkin Spice Pretzels Nuggets Are Coming And They Sound Delicious
Courtesy Auntie Anne's
It seems like every day in August, there has been a new pumpkin spice flavored -- or scented -- product on the market. Continuing the trend is the delicious pretzel chain, Auntie Anne's, who is coming out with a line of Pumpkin Spice Pretzel Nuggets. Auntie Anne's Pumpkin Spice Pretzel Nuggets are available starting Sept. 11, and you can get them at any Auntie Anne's store through November 19.
The limited edition snack is baked fresh every day and is topped with seasonal pumpkin spices that make for the ultimate autumnal snack. The best part is that these nuggets pair perfectly with sweet glaze or cream cheese dip, and a cup of them will only set you back $3.89, which seems perfectly reasonable.
Auntie Anne's Pumpkin Spice Pretzel Nuggets will totally quell even the gnarliest of PSL tooths — which, come August, everybody has anyway. If these autumnal nuggets don't get you excited about the PSL, maybe this will. Starbucks started a Twitter account based on the PSL and it looks like we might be seeing the highly anticipated beverage come Sept. 1. See the tweet below. It says,
I CAN'T TELL YOU YES I CAN NO I CAN'T STARBUCKS FACEBOOK SEPTEMBER 1ST THAT'S ALL I CAN SAY AH!!!
OK, so we still have to wait around for the actual PSL from Starbucks and the PSL inspired nuggets from Auntie Anne's, so what exactly can we get now? Well, I'm glad you asked, because right now you can get your hands on PSL-inspired bath bombs, candles, and deodorant that will make you smell and feel like the happiest basic person around.
These products may be a little excessive but at least they'll help take your mind off the fact that you still haven't been able to enjoy the original Pumpkin Spice Latte from the 'Bucks. If we don't get an official announcement on Sept. 1, we riot.