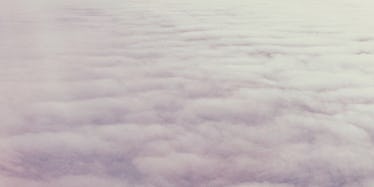 Your First Week Of October Horoscope Is Here & Change Is Headed Your Way
It's officially October, y'all! Where did September go? Who cares? September is now a figment of your past, and this week proves to you that your past might as well be a figment of your imagination. The first Monday in October is a moment that will live forever as Mars and Pluto (the traditional and modern planetary rulers of Scorpio) form a trine. Your Oct. 1, 2017, weekly horoscope gives you the planetary boost you'll need this week to make your goals a reality.
Mars, the planet of action, energy, and drive forming a trine with Pluto, the planet of personal transformation, is like a wake-up-call-to-arms for us all. Whatever part of your life you've been sleeping on, something inside of you will wake the hell up and hit the ground running. A voice inside you will be encouraging you to act now, and overcome obstacles like doubt or fears later. You have a chance now to really make a difference in your life, and you don't need to worry about the consequences of the changes you are ready to bring about.
Because Pluto trine Mars inspires change on an individual level, we also have a chance to create change socially now. After all, change on the collective level begins with change on an individual level. The full moon in Aries comes Oct. 5, and will have a massive impact on that area of your life. You're bound to see this transformation happen.
Aries
This Thursday will be the only full moon in your sign throughout 2017, so make the most of it. Any and all personal projects you've been working on could be unveiled or launched on this day to critical acclaim, so if you have something you've been focusing on that's close to your heart, Thursday is the time to show it off!
If you've been feeling lost lately, this full moon is likely to offer you clues as to what path to take next.
Taurus
This week is one to get bold in your fashion choices, with Venus touring your fifth house of drama. Beware of overspending though, as the full moon in Aries highlights your 12th house of secrets, delusions, and the subconscious. This week is easy to get lost and drift away from your otherwise grounded personality.
Gemini
Venus is moving through your fourth house of home and family this week, making contact with Pluto and Mars in that glorious trine I wrote about before.
This week, if you feel you need to have a discussion with someone in your inner circle, do so. Let your thoughts be heard, and more importantly, do your best to hear them out as well. The full moon is in your 11th house of groups and friendships, so cooperation is the name of the game.
Cancer
With Venus in your third house of communication and technology, this week is likely to be a big one for you. Your phone will be ringing off the hook, and you're likely to be showing face in all the right places and on every form of social media. You have Pluto in your house of relationships too, so make this week the one where you have that talk about where your relationship is going. You have a full moon in your 10th house of career fame on Thursday, so if something comes together (or falls apart) on the job, it'll all work out for the best.
Leo
You have a full moon in your ninth house, the house associated with Sagittarius. What this means is you could be speaking out in ways not even you could possibly expect, and saying whatever it is that comes to mind, forgetting all about polite conversation.
Try to stay cool and not fly off the handle, and you'll have a better chance of making your case. You might also hear about a chance to take a trip around this time, and if so, don't hesitate to get up and go. Take the time off work if you need to.
Virgo
The sun has moved into Libra, but Venus is still in your sign, which amplifies your powers of attraction. You are hot this week, Virgo, so if you are looking to improve your appearance or transform it, now is the time! You have Venus trine Mars and Pluto, so now is your time to go all the way with your new look.
The full moon in Aries will take place in your eighth house of erotic delights, so if you've had a crush for awhile, now is the time to make your move.
Libra
This week, the full moon in Aries may heighten people's tempers at work or in your personal life. Beware of acting out in anger, especially if something seems unfair (as this is a trigger for you) and try to just take deep breaths. It may be time to cut ties with someone at work. This full moon also moves through your relationship zone, so if you have an opportunity to pair up on a date that night or to have that relationship talk, take it.
Scorpio
The full moon is happening in your sixth house of work and health this week while Venus tours your 11th house of friends, groups, and organizations. You'll definitely be looking for romance in all the right places if you get out and network, volunteer, or go to a friend's birthday party.
When the full moon arrives Thursday, tempers will run hot. Find your release with a new workout routine, and it's likely whatever activity you find will transform not just your body, but your attitude about fitness.
Sagittarius
The full moon Thursday is happening in your fifth house of love, romance, and theatricality. So you could make this week the one where you finally, unabashedly, make and effort to stand out more.
You have the universe on your side and can draw eyes toward you when Venus and Mars meet up that same day. If you've been seeing someone, expect to have a hot night out -- or a hot fight -- around this time. You might finally tell someone to f*ck off once and for all. Whatever happens, good or bad, you'll be glad it did. Full moons have a knack for weeding out the bad stuff in our lives.
Capricorn
Venus is moving through your ninth house of exploration, meaning that something (or someone) could be calling to you from overseas. You'll find yourself drawn to things and people outside your comfort zone, and when the full moon comes Oct. 5, you might redesign your home to fit your new, expansive aesthetic.
This full moon is in your fourth house of home and family, so something at home will require your attention, whether it's a roommate or a relative, be prepared to devote some time to focus on the issue.
Aquarius
This week is about to be a sexy one, with Venus touring your eighth house of sex and transformation.
When the full moon arrives on Thursday, you'll be ready to close up shop on a relationship that lacks sexual energy, or practically be tearing each other's clothes off in public. It's a toss-up, but one thing is for sure, this week is the start of a very sexy six months ahead.
Pisces
Venus is in your seventh house of partnerships this week, so single Pisces should get out and really make an effort to mingle, because you're likely to naturally attract someone who is ready to settle down.
Pisces who are attached should also make an effort to be out and about with their sweetie as well. The full moon in your house of finances increases your earning potential, so if you're up for asking for a raise, Thursday is the time to do it.