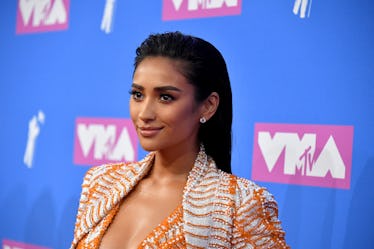 Shay Mitchell's New Bob Haircut Is Short, Sleek, & Stunning — But It's Not What You Think
Mike Coppola/Getty Images Entertainment/Getty Images
Quick question for you: Is there any look Shay Mitchell can't pull off? The obvious answer, in case you hesitated, is no; the girl can literally rock any trend, and take not-so-trendy styles and transform them into the next big thing. The latest in a serious of uber-successful beauty moments is Shay Mitchell's new bob haircut, which, don't argue with me, is probably one of the best bobs of all time.
If there's ever been an appropriate time and place to make a statement with your looks, it's undoubtedly at New York Fashion Week, so I was already anticipating some stylish moments from Mitchell when she posted about attending on her Instagram. Ever a social media fanatic, she has been keeping her followers up to date throughout the week's festivities, giving vlog-style updates on her Instagram Stories, which are equally hilarious and ~high-fashun~. I love her social media presence because she isn't afraid to keep it real, always including both the highs (like posts to her feed featuring glamorous gowns, parties, and runway shows) and the lows (like struggling to fit into her outfits or binging on late-night Five Guys and pizza). Personally, I'd consider that last one a high point, but I guess glamorous Fashion Week shows are exciting, too.
When it came time to document the getting-ready process for Us Weekly's Most Stylish New Yorkers party, Shay posted tons of Instagram Stories giving fans a behind-the-scenes look at her glam sesh. Spoiler alert: she looks just as stunning before the hair and makeup as she does after — can not relate.
As I watched Shay's team put the finishing touches on her makeup, I wondered if the pulled-back look in the shot below was to be her final hairstyle or not:
And one Instagram Story later, I received my answer. The night's look would be the sleekest, chicest, most on-trend blunt bob I'd ever beheld (try saying that five times fast):
Had Mitchell cut her iconic long, black locks? With more and more celebs embracing shorter, shiny cuts, it wouldn't surprise me for Mitchell to chop her strands as a total power move.
But wait one second — hadn't she been posting pics with lengthier locks during the past few days of Fashion Week?
Might our girl Shay be indulging in the glass hair trend via a wig? My own wig was shook at the possibility. It looked so real, and so good. In a world where I would never even dream of pulling off blunt bangs, much less super-short hair, Mitchell manages to do both effortlessly, as usual.
Me, after deciding to try bangs a few years ago and immediately regretting them:
She paired said wig with the most sultry of smoky cat eyes, some statement earrings, and a mixed metallics minidress with a plunging neckline. And also, the most flawlessly contoured and highlighted cheekbones I've ever seen.
In the group shot she posted to her Instagram Story, her friends seemed unphased by the new 'do:
It wasn't until later in the night that Mitchell acknowledged her new 'do as a wig, posting a Boomerang of it being snatched from her head, which was nothing short of iconic:
She even had her pal, musician Chloe Flower, try it on for size, and don't worry, I'm already drafting up a petition to get Shay cast in a Sisterhood of the Traveling Wig film:
In all seriousness, I really loved this hairstyle on Mitchell, and she's managed to make me love the glass hair trend even more than I already did. Here's hoping this is a wig she opts to wear on the reg, because I'd be happy to see more of it. We already know she's as comfortable rocking it out to fancy parties as she is wearing it while indulging in a late-night pizza, so it's safe to say this little blunt bob is a keeper.