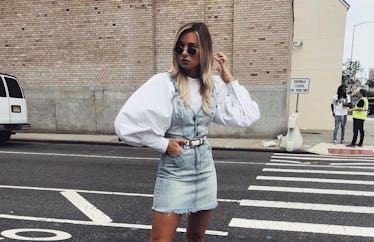 These Styling Hacks Will Help You Layer Your Summer Dresses Over Shirts For Fall
Transitional dressing can be one of the hardest things to ace. Understanding which skirts, tops, dresses, jackets, and more you should keep inside of your closet and out of storage during the early fall months is a huge pain. I've found that if you know how to layer a dress over a shirt, specifically a spaghetti strap or short-sleeved dress, then transitional dressing and all of its complexities seems to get a whole lot easier. After all, slinky slip dresses and your favorite floral mini are the hardest things to banish to under-the-bed boxes, amirite?
Thanks to some insanely stylish women that have been rocking the layered trend at New York Fashion Week (I see you, Olivia Palermo) and a slew of other style stars, it's never been easier to see how the dress and shirt combination is aced. Do as the fashion darlings du jour do and you can't go wrong. And, of course, if you're feeling inspired to try out your own layering technique, the more power to you.
Below are the four main types of tops I've seen layered under dresses as of late, with tips below each on what iterations of them you should by and which dresses they look best with.
Structured Tops (Including Button-Ups)
If the dress you're layering with has a shift or boxy silhouette, feel free to layer over equally relaxed button-ups. If it's fitted, make sure the bodice of your shirt is also fitted so that it doesn't look lumpy and wrinkled underneath. Button-ups with cool collars and sleeves can add some cool styling details to a look. Consider those with balloon sleeves, sleeves with unique cuffs, and ruffled or bow necklines.
Turtlenecks
You basically can't go wrong with layering a turtleneck under a dress. Because of their nature, clashing straps or a too-wide neckline won't be an issue, rendering easily pairable with literally everything. The two things to keep in mind are sheerness and color. Sheerness bring out the edgy side of a super sweet dress and make it look slightly punky — they're my go to. If you opt for a sheer turtleneck under a dress, try pairing the look with some chunky combat or treaded boots. When it comes to color, black is the easiest shade to go for but some dresses can look cool when worn over white and nude, or even a super eye-popping color. Use your best judgment. *Pro tip: if you're looking for something to layer underneath of a short-sleeved dress, I'd recommend a turtleneck. The fitted sleeves and solid hue won't detract from the dress itself, while the collar that peeks out will help pull the layering together cohesively.
Tees & Crewnecks
The same as turtlenecks, just make sure the neckline of the tee doesn't clash with the straps of the dress. The result should be clean and symmetrical, whether that means the dress' straps hit on either side of a crewneck or directly inside a bateau.
Patterned Tops
It's never been cooler to intentionally print clash, so why not try layering a leopard shirt under a floral dress? When it comes to mastering mixing, there really are no rules. Be your own judge as to which patterns and hues go together and let this be a time for your personal style to truly shine.
Happy layering!