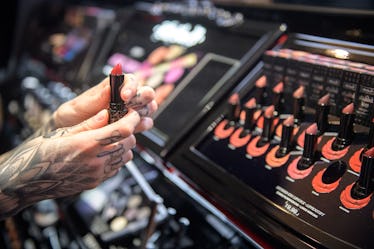 Sephora's Holiday Hooray Sale Is Almost Over, So Here's How To Snag $25 Off Before It's Too Late
Thomas Lohnes/Getty Images Entertainment/Getty Images
Sephora's Holiday Hooray Sale Is Almost Over, So Here's How To Snag $25 Off Before It's Too Late
Hear ye, hear ye, beauty lovers across the land! There's only a couple days left for you to make the most of Sephora's 2018 Beauty Insider Holiday Hooray Sale, so if you aren't yet properly informed, allow me to fill you in on all the savings and steals to be had. Depending on your Beauty Insider level, you can score different discounts when you shop in-store or online, and with holiday shopping in full swing, it never hurts to save a little extra coin, you feel me?
Sephora stays blessing the people with sale after sale, but the Holiday Hooray is especially for Beauty Insider members. Members receive increasingly larger amounts of money off their purchases depending on how high a tier they sit in within the Beauty Insider rewards program. While the lowest tier of Insiders still get a great deal, VIB and Rouge members will be able to save even more. The sale itself began on November 29 and will conclude on December 12. Tons of shoppers have already taken advantage of this golden opportunity to save, but if you're late to the party, don't freak out, there's still time.
Plus, ICYMI, Sephora has been giving us a ton of new gorgeous brands and products to swoon over, so there's never been a better time to buy:
So, exactly who gets what discount? From November 30 to December 11, Beauty Insiders can get $15 off of their purchases of $75 or more, by applying the one-time use code "2018HOORAY" at checkout. Using the same code, VIB members shopping from November 30 to December 12 can get $20 off of their purchases of $75 or more, and Rouge members can get $25 off of their purchases of $75 or more.
Sales like this make spending enough yearly to be a Rouge member so, so worth it, am I right?
Like any sale, there are a few restrictions. Customers can only by up to three Drunk Elephant or Tatcha products per transaction — but both brands are pretty luxe, and one or two items from either would definitely bring you well above the $75 minimum, so it's all good. Sadly, Dyson and Google branded products are excluded, but besides that, everything is basically fair game.
Me using this sale to justify my purchases, already knowing I'll be spending way over $75:
So, what are we buying? I'm in the mood to test out some new skincare, and I've got my eye on the Private Doctor Minus Serum ($49, sephora.com), which was inspired by real in-office procedures to deliver major anti-aging benefits. So in splurging on this serum, I'm really saving money because I won't be booking any procedures, right? This mindset (as well as the serum's cute pink bottle) is how I'll be justifying this purchase.
If we're talking makeup, though, I've been dreaming about the Huda Beauty The New Nude Eyeshadow Palette ($65, sephora.com) ever since it first showed up on my Instagram feed, so it's pretty likely I'll be adding that to my cart as well. Now, if you're really, really tryna splurge, I've gotta give it up for the Stila All Eyes On You Liquid Eye Shadow Vault ($195, sephora.com), a $288 value featuring 12 of the best liquid and glitter shadows I've ever had the pleasure of applying. If you're trying to romance me this holiday season and you don't show up with this vault, expect a swift "thank u, next," because this is literally all I want for Christmas.
The last day of the sale is either December 11 or December 12, depending on your Beauty Insider status, so there's really no time to waste. Feel free to snag any of my above recommendations or pick up anything else you've been eyeing. There's a sale, after all, so you can totally justify it!