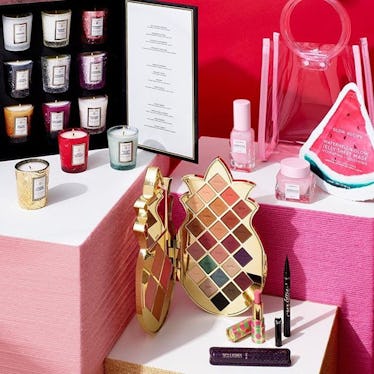 Here's Everything You Need From Sephora's Cyber Monday Sale
sephora on Instagram
I love shopping online. No waiting in lines, being able to find exactly what I want within seconds, avoiding crowds of other eager shoppers —it all comes together for a blissfully stress-free experience. So you can imagine, then, that Sephora's 2018 Cyber Monday sales are extremely exciting for me, seeing as they'll allow me to shop a slew of the best brands in beauty all in one place and at awesomely discounted prices, no less.
On Black Friday, the day after Thanksgiving, the only thing I want to do is eat leftovers while simultaneously trying to digest my meal from the day prior (counterproductive or just ambitious?). I applaud those who wake up at the crack of dawn to brave the crowds in person or to begin filling their virtual carts alongside the sunrise, but I simply am not one of them. No, the digitally focused shopping extravaganza that is Cyber Monday is way more my speed and Sephora's made this year's joyous experience even better.
For Black Friday, the retailer offered a ton of incredible products for under $15. Some were singular products, others were gift sets, and they all were valued way above their $15 (or under) price tag. Benefit Cosmetics, Tarte, It Cosmetics, Milk Makeup, Pat McGrath Labs, Smashbox, Stila, Clinique, Kat Von D, Becca — they were all included in the sales along with many, many more cult-favorite brands. It's only right that Sephora would keep the party going and offer up some deals for Cyber Monday fans like me that were equally as good.
And now that Cyber Monday, the holiday of savings invented for people like me, is upon us, Sephora delivered on the deals yet again. I'm talking makeup sets under $30, skincare vaults under $50, and luxe hot tools under $200. Excuse me while I load up my virtual cart.
And if you're looking for inspiration for your own, here's some:
Sephora Collection Starlit Brush Set $85 Value (regular price: $39, Cyber Monday sale price: $25; sephora.com)
Sephora Collection Wish Upon a Star Advent Calendar $85 Value (regular price: $36, Cyber Monday sale price: $29; sephora.com)
Make Up For Ever Essential Wonders (regular price: $25, Cyber Monday sale price: $18; sephora.com)
Glamglow The Superstar Set $130 Value (regular price: $59, Cyber Monday sale price: $49; sephora.com)
T3 Cura Hair Dryer (regular price: $235, Cyber Monday sale price: $179; sephora.com)
Smashbox Master Class Knockout Neutrals: Eye & Face Palette $212 Value (regular price: $65, Cyber Monday sale price: $32; sephora.com)
Kat Von D Everlasting Obsession Lip Liner Collector's Edition $270 Value (regular price: $200, Cyber Monday sale price: $140; sephora.com)
And as if that wasn't enough savings, Sephora is also offering a slew of promo codes to redeem free gifts with your purchase:
The hardest part now is deciding where you save your money, what gifts to claim, and who on your holiday shopping lists are worth some major spoiling. But the good news is you get to rack in the deals in the privacy of their own personal space. So get clicking!