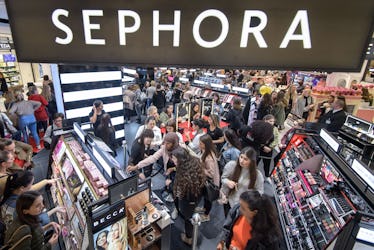 Here's When You Can Access All The Savings From Sephora's Beauty Insider Holiday Sale
Thomas Lohnes/Getty Images Entertainment/Getty Images
Ladies and gentlemen, make room in your makeup bags and apologize to your credit cards in advance, because holiday shopping szn is fast approaching, and this year, Sephora is on a mission to make things worth our while. Another weekend of their 2018 Beauty Insider Holiday Sale is almost here, and trust me when I say, it's jam-packed with splurge-worthy deals. If, like me, you want to make the most of the sale and stock up on your faves (and, of course, some glittery new products) before the good stuff sells out, you're probably wondering: when is Sephora's 2018 Beauty Insider Holiday Sale? You're asking the right question, because the answer is a little tricky — in fact, it varies per person. Read on to find out exactly when you can start adding to cart.
First things first. To take advantage of this sale, you must first be a registered member of Sephora's Insider Rewards Program. There are three different membership tiers, and you qualify for one or another based on how much money you spend at Sephora annually. The lowest tier is Beauty Insider, for which no annual spending minimum is required, followed by VIB, which is for customers dropping more than $350 yearly. Finally, there's VIB Rouge for anyone who spend over $1,000 on beauty products annually. That last one is for shoppers like myself, who have no self-control and need every shade of eyeshadow ever created. If you aren't already signed up for the program, you can head to the Sephora site's Insider Rewards Program page and do so now.
Once you're registered, the sale is yours: Throughout November, shoppers will receive a whopping 20 percent off of everything. Yup, everything. I'm talking about that pumpkin spice face mask you've been wanting since way before fall. I'm also talking about that bougie haircare product you couldn't justify at full price. And you know I'm talking about your 100th glittery eyeshadow palette, otherwise unjustifiable but totally acceptable given this major discount.
My inner monologue the second I heard about this beauty sale:
So, when can you start shopping with this major 20 percent off discount? The sale will run for three consecutive weekends, but your access time depends on your Insider level, TBH.
VIB Rouge members get first dibs: They can start shopping from Nov. 2 to Nov. 5, and will get the discount by using the code "ROUGEBONUS" at checkout, both in Sephora stores as well as on the site. VIB members, though, will have to wait until Nov. 9 through Nov. 12 to shop, and can use the code "VIBBONUS" for the same 20 percent off discount. Finally, the Beauty Insiders will receive a slightly smaller discount — 15 percent instead of 20 — and can shop from Nov. 16 until Nov. 19 using the code "BIBONUS." BTW, all the codes are multi-use, so if you need to make more than one order as your weekend progresses, nobody's stopping you.
Me, an unashamed VIB Rouge member, taking full advantage of the sale on the first weekend it runs:
If you aren't able to shop until the third weekend of the sale, please ignore my humble bragging above and rest assured: Sephora knows how beauty-hungry its shoppers are, and I'm sure they've prepared tons of stock so your favorites won't sell out before you get the chance to pick them up. Plus, if you aren't VIB Rouge, that means you didn't already spend $1K on makeup this year, so you probably have more money saved up to splurge on this sale than I do. Now I'm the one envying you!