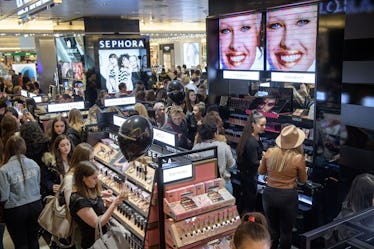 Sephora Is Having A Massive Holiday Sale For Beauty Insiders & It's Happening So Soon
Thomas Lohnes/Getty Images Entertainment/Getty Images
'Tis the season for some of the most wonderful things in life like gathering with friends and family, eating endless amounts of sweets and treats, decking your halls with all sorts of festive decorations, and last but certainly not least, Sephora's Beauty Insider Holiday Sale 2018. Yes, the best time of the year is officially upon us and whether you're getting a head start on your holiday shopping for others or you simply want to gift yourself a little something extra right now, Sephora's sale will undoubtedly put you in good cheer thanks to the savings you'll reap.
Before getting into the details, it's important to note that in order to participate in the sale you must be a card-carrying member of the Sephora Insider Rewards Program. You can sign up for any one of the three tiers offered within the program based on how much you spend on beauty products annually, and after doing so you'll be able to score deals and savings year-round—and get in on super exclusive sales like this one.
Throughout November, Sephora will be offering 20 percent off on everything it stocks (yes, everything) to all three tiers of the rewards program. That means you can snag anything by Drunk Elephant, Urban Decay, Tarte, Olaplex, or any one of your other favorite brands at a seriously slashed price. Now that's seasonal generosity, no?
VIB Rouge members (those who spend more than $1,000 at Sephora annually) will be able to get in on the deal first; from Nov. 2–5, they'll be able to use the code 'ROUGEBONUS' upon checkout both in-store and online to get the discount. VIB members (those who spend more than $350 annually) and Beauty Insiders (everyone else signed up for the rewards program) will have to wait just a little bit longer. They'll gain access to the sale sometime in November, too, but the exact dates have yet to be released. (Keep your eyes and ears open!)
Because sifting through Sephora's hundreds of products and picking out a few favorites is a nearly impossible task, here are a few favorites to consider. Whether you give them away or gift them to yourself, they're sure to be a hit.
Skin Food
One of Sephora's best-selling skincare products, this cream is a protein moisturizer that will help tone your skin while improving its texture and hydration. It's an excellent everyday cream and considering it makes Sephora's clean beauty cut, you'll definitely want to give it a try.
Throw Shade
This product really needs no explanation. Fenty Beauty's top and game-changing offering, this matte long-wear foundation is offered in 40 shades and promises a soft, crease-free finish. You know you've been dying to try it — and so have all your friends.
Glitterbug
If you want to take your holiday beauty look up a notch (or three), this palette featuring matte and shimmery shades alike just might do the trick. From jet black to a bright salmon hue, the colors it contains will bring the drama, drama, drama.
Butter Me Up
I can personally attest to the amazingness of this body oil when it comes to combatting flaky winter skin. It melts into the skin and doesn't leave a greasy residue afterwords, immediately leaving skin feeling hydrated and happy, and boasts an incredible scent to boot.