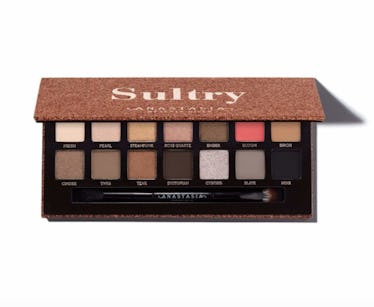 Anastasia Beverly Hills' New Sultry Palette Is Truly Just As Irresistible As You'd Expect
If a sparkling, metallic smoky eye is your go-to makeup ~lewk~ for the colder months, then get your credit cards ready and make room on your beauty shelf: Anastasia Beverly Hills' new Sultry Palette is about to be your new fave palette to reach for when you're feeling an eye look that gives off a super seductive vibe. ABH announced the launch of the new palette in a series of Instagram posts. First, the brand posted a video of various models wearing (what we now know are) the eyeshadows from the palette. The following video featured a mysterious gold rose, and finally, the big reveal showcased the actual palette in all its sparkly, sultry glory.
The palette, which is available for purchase now on anastasiabeverlyhills.com for $45, includes 14 matte and shimmery eyeshadows in a range of nudes, bronzes, and other neutrals, with a pop of gold and peach as well. All of the shades, like "Dystopian" (a matte chocolatey brown), "Ember" (a shimmery gold), and "Birch" (a matte tan), are ideal for creating that moody, festive effect that completes any holiday party look.
Anastasia Beverly Hills originally began as an eyebrow-focused brand, but has since successfully expanded their selection to include some of the best lipsticks, highlighters, and eyeshadows on the market. The new Sultry Palette launch comes just a month after the brand dropped their Norvina Eyeshadow Palette ($42, anastasiabeverlyhills.com), a 14-pan beauty with the most whimsically perfect purples and pinks.
ABH's brand president, Claudia Norvina Soare (for whom the Norvina palette is named), took to her personal Instagram on Tuesday evening to share the brand's inspiration behind the latest launch: "The inspiration for this palette was sexy smoky metallic eye looks which are perfect for holidays."
Soare went on to explain how the launch of Sultry adds variety to the brand's eyeshadow selection, as it is the sixth palette, joining "Norvina," "Soft Glam," "Modern Renaissance," Subculture," and "Prism" on ABH's digital shelves. "One last thing; ABH is known for colorful palettes & warm toned palettes, and as a brand, it's very important to remain cognizant of consumer needs and wants that are within our core demographic and outside of it. Growth is about expansion and variety, to me, this palette will invite consumers to ABH that possibly have never tried it before," she wrote.
Essentially, Soare believes the Sultry palette brings cooler-toned colors to your makeup selection, while a majority of other ABH eyeshadow palette have focused on super warm, brighter-toned hues in the past. But aside from the shades, if Sultry is anything like the rest of ABH's products, my guess is that the palette's formula will be creamy, dimensional, and of great quality with serious color pay-off that will last throughout even the longest of holiday parties.
Sitting at $45, this palette may be a bit of a splurge, but considering how undeniably yummy this mix of colors looks, I think my bank account and eyelids are both more than ready for the Sultry palette.