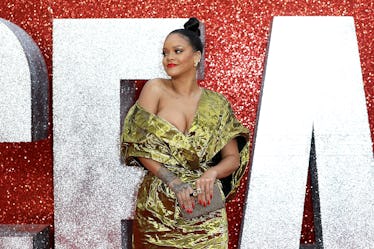 Rihanna's Long Gold Nails On Her 'Garage' Cover Have Me Shook, Just Like All Her Recent Looks
Tim P. Whitby/Getty Images Entertainment/Getty Images
You probably already know this, but just in case, let me preface this post with the following: There is nothing, I repeat, nothing Rihanna cannot pull off. If you disagree, I'm willing to to provide a detailed PowerPoint presentation featuring her most daring and iconic looks, many of which she's #blessed us with in just the past few months. Rihanna's long gold nails on the cover of Garage magazine, for example, just made every regular ol' gel manicure I've ever splurged on seem basic as heck. I'm not mad, though — I respect a style queen when I see one.
I think the reason so many are drawn to Rihanna's sense of fashion is that it combines inspiration from a variety of styles, so there's literally something for everyone in each of her looks. When she rocks a sporty, athleisure look, her face is usually beat to the gods with a sick contour. When she's dressed in a gorgeous gown on a red carpet, her accents and accessories are usually edgy and tough, from heavy, metallic clutches or jewelry to super-sharp, fierce, winged liner. The balance of feminine and tough is what creates her air of cool-girl chic, which is so unmistakably RiRi.
Exhibit A: RiRi pairs simple, straight hair and understated, natural makeup with the blingiest of jewels and geometric, statement shades:
Exhibit B: At the Oceans 8 New York premiere, Rihanna rocked a super femme, pleated, purple gown, but paired it with a Vampire-chic lip and super-slicked hair to edge it up and ensure the dress doesn't overpower her.
And of course, Exhibit C: Rihanna's new Garage magazine cover, on which she contrasted a frilly, floral, pink top with the longest metallic talons the world has ever seen grace a cover:
So whats the scoop on these gold nails? Jenny Longworth, a London-based nail artist, is the mastermind behind the look, and she's got me thisclose to hitting up a craft store and gluing every teeny tiny gold object I can find onto a pair of press-ons. The effect won't be half as glam, but after seeing this detail shot, can you blame a gal for trying?
Longworth captioned her Instagram post, "When you make sure they can't fit gloves over those nails," alluding to her previous work with RiRi for that iconic thin-browed British Vogue cover, on which her handiwork was hidden by a pair of orange knit gloves.
Based off of Longworth's Instagram posts, it's clear she's Rihanna's go-to nail artist, and they've collabed on everything from crisp, simple white tips to dreamy purple glitter.
With Rihanna serving some of her most daring looks to date recently, it's no surprise that she felt the need to keep her nail game equally strong. Tons of celebs have been showing off their tips as of late — please see Kylie Jenner's monochrome ombre moment if you need further convincing. (And then, head directly to my apartment with five varying shades of pink nailpolish, thx.)
Maybe this is a "wild thought" (Rihanna song reference, get it?), but perhaps RiRi's recent nail game alludes to future Fenty Beauty releases. Would a metallic gold nail kit not be the pièce de résistance to a festive holiday collection? Give the people what they want, Rihanna! You can't serve us these ~lewks~ and then not help us recreate them!
Maybe we'll see some nail goodness from Fenty Beauty soon, but until then, I'll have to live vicariously through Rihanna's epic looks. After all, if only one of us can look incredible, it might as well be her.