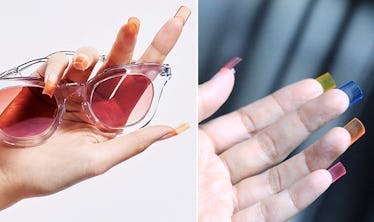 The Transparent Nail Trend Is Taking Over Instagram & It's A Clear Winner
I love nail art but my tiny nail beds totally limit my design options. Since there's only so much space my nail technician has to work with, I usually ask for added length via plastic nail tips. There are a few minutes between when they first glue the tips on and when they trim them when the tips look like a work of art themselves. While some come in an opaque white shade, I've mostly had clear ones put on and I always thought they looked pretty cool unpolished. I'm totally regretting not pioneering the clear nails trend right about now.
The look basically consists of transparent nails coated in clear and see-through colors. Since nobody (not even girls with long nails) has naturally transparent nails, here's where those fake tips come into play (finally, having short nails work to our advantage). To get the look, your nail tech will need to trim your nails short, glue on the clear tips, cut them to a length you like and paint them in the color of your choice. However, it will take a special nail polish to get that see-through effect. The result is a cool, almost-futuristic look, especially when the light hits just right.
If you're the type of girl who loves a solid-colored mani, but is looking for a way to step up your nail game, this is the trend for you. Notice how a simple blue mani suddenly looks updated, cool, and impossibly fresh.
However, don't think you can't add a couple of decals onto your new transparent nails. The clear tips stained in a bright pink are an eye catcher enough, but why not take them up a notch with two accent nails.
But if you're known to take the more-is-more route, these are the nails for you. Pair the clear nails trend with the wire nail art we saw all over Instagram last year. And for added bling, finish off your mani with decals on every other finger. Who said all your nails can't be accent nails.
Although, you can't underestimate the power of a single accent nail either. Instead of adding length to all your nails, opt for a single clear tip on jusy one finger.
I'll admit, I'm not a fan of the old-school French tips, but these transparent orange tips make the dated trend feel completely updated.
If you're as much of a fan of multicolored nails as I am, here's your chance to try two trends in one. Ask for clear tips and have each one painted in a transparent shade of neon.
There's no better way to play with negative space than with these completely clear faux nails. I especially love the concept of outlining each nail with a clean shade of white.
Although these clear nails look like they could just melt in the middle of this summer heat wave, I'm obsessed with the look of these clear icicle-inspired nails. How cool are they? Ice cold.
And finally, keep in mind, the color you choose will make a huge difference, while a bright shade of blue or multiple neon hues will look like nail candy, a barely-there shade of pink will give you a completely different effect.
Keep an eye on your feed, because these clear PVC-inspired nails are sure to take over any day now. And while I certainly missed my chance to be the first to wear this nail art look, you can still be an early adopter. Call your nail artist, screenshot your favorite looks and get ready for the compliments to roll in.