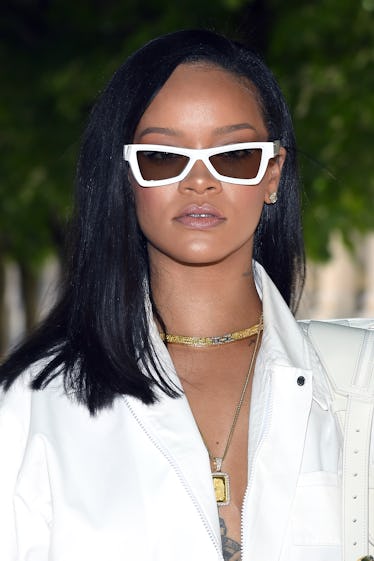 Rihanna Just Dropped A New Perfume & It's Basically Her In Fragrance Form
Pascal Le Segretain/Getty Images Entertainment/Getty Images
If you've been searching for a new fragrance to add to your repertoire, look no further. Rihanna's Reb'l Fleur Love Always Perfume just might be the perfectly balanced scent you've been on the hunt for. If Riri made it, you know it's good, so why not invest in the new celeb-approved (and created!) scent for fall? It could be just the subtle change to your beauty routine you've been craving.
This fragrance isn't Rihanna's first foray into fragrance. The singer and beauty mogul has a long history within the perfume industry that dates all the way back to 2011, when she released her first spritzy success, Reb'l Fleur. The product was hugely successful (Rolling Stone reported that it was expected to gross $80 million at retail by the end of 2011) and paved the way for the slew of other Riri-branded perfumes to come. Both Rebelle and Nude were released in 2012, Rogue was released in 2013, Crush was released in 2016, and Kiss was released last year. This all goes to prove that when it comes to concocting accessible yet legitimately lovely fragrances that women will love, Rihanna is a bit of an expert. So it should come as no surprise that her newest perfume, which dropped this week, is no different.
Called Reb'l Fleur Love Always, it's "the bolder and daring sister" to Rihanna's first ever fragrance release, as described in a Tweet by Perfumes by Rihanna.
Bolder and more daring? Yes, please. According to RhiannaDaily.com's Twitter account, the fragrance features top nots of red berries, purple plum, and peach; mid-notes of Hawaiian hibiscus flower, violet, tuberose, and coconut water, and base notes of vanilla, patchouli, amber and musk. A mixture of juicy fruits, rich florals and deep musks, it's definitely got a lot going on, but I'm confident everything works perfectly together to create an ace scent. As described in the perfume's product description on Perfumania.com, "Delicious fruits give way to the lush smells of island life and a sultry drydown, creating a daring, timeless, and truly memorable scent."
Interestingly enough, the formula barely varies from that of the original Reb'l Fleur, which was composed of identical accords. The only change is that the new version of the perfume has been re-dosed, richened and intensified, rendering it sexier and more refined. Those are both words that I want to come to people's minds when they think of me, so why not start with a scent that also embodies them?
You can shop Reb'l Fleur Love Always online now at Perfumania.com. A 3.4 ounce bottle costs $60, which is average for a mid-price perfume—not bad considering many designer perfumes can be over double that price. The fragrance comes in a black bottle shaped similarly to the Eiffel Tower and boasts a sleek black X across one of its sides. Overall, it's streamlined and sophisticated—but would you expect anything else from Riri? It's definitely not your average mid-range fragrance and I can guarantee it won't smell like one, either.