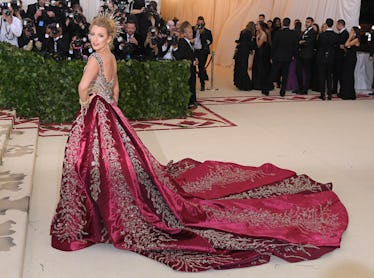 Blake Lively Wore A $5 Manicure To The Met Gala & It Couldn't Be More Breathtaking
David Fisher/REX/Shutterstock
Celebrities rely on their glam squads to make them look their best all year round, but on the night of the Met Gala, everything requires extra planning and primping. Since it's basically the Super Bowl of the fashion world, all stars in attendance go that extra mile to look their best, but as every fashion and beauty junkie knows, looking your best doesn't always have to cost you a fortune. In fact, Blake Lively's 2018 Met Gala look included one unbelievably affordable accessory: her manicure. The actress paired her medieval princess dress and majestic, Game Of Thones-style head piece with press-on nails from Kiss. Finally, the middle-school manicure hack is getting the recognition it deserves.
I've actually always been a huge fan of press-on nails. For some reason, I've always had a really hard time getting polish to stick on my nails (more so than the average beauty enthusiast). I've had professional manicures chip by the next morning — even gel manicures have been known to separate from my nails after only one week. I don't know if my nails just naturally reject chemicals or if I have oily nail beds (which is actually a thing), but polishes just don't do it for me. The upkeep for me is just too much, so for the most part, I usually just wear my nails bare. I envy girls that can get manicures every couple of weeks and their nails always look amazing.
I once got all dressed up for an event and realized my nails were a disaster. They almost always are, but I couldn't leave the house on this particular night while wearing a head of pin-curled waves, a full face of makeup, and a long dress. I couldn't risk making a mess with nail polish and I didn't really have time to let them dry anyways, so I turned to the imPress Shattered Glass Press-on Nails ($8; impressmanicure.com) I had recently received in the mail. The nails already had the adhesive on the backs, so all I needed to do was match up the correct sizes, peel off the backing and stick them on my nails. I took a nail file in the car with me and shaped them on my way to the event.
By the time I got dropped off, my nails had undergone an entire transformation. They looked professionally done and even had an accent finger with shiny nail art. Also, I have short nails — I don't consume a ton of calcium and I always forget to take my biotin pills, so my nails are always breaking — so these gave me some much needed length. My hands looked amazing, but I was slightly nervous to lose a nail while mid-conversation with someone at the event.
I was so glad when I got picked up from the event with all ten nails still in place, but when I hit the two-week mark with a perfect-looking mani, I was downright impressed. See a photo of said nails below. Since then, the press-on manicure has always been my go to.
In the past, press-ons have been seen as a kitschy DIY project that you tried once at a sleepover in middle school — at least that was my first press-on nail experience. I woke up with tiny blue fingernails tangled in my hair the next morning.
I used to see press-on nails as my secret guilty pleasure, but there's been a ton of talk about them in the industry recently. Even Jennifer Lopez admitted to wearing them all the time. She even walked the red carpet at the Golden Globes in faux nails. And now that Blake Lively sported them to the fancy AF Met Gala, press-on nails are definitely a bonafide trend.
Inspired by the architectural details of church stained glass windows, celebrity manicurist Elle designed a multi-faceted Kiss manicure for Lively. "People would be surprised by how many colors the chrome reflects through the nail," Elle told Elite Daily. "An added surprise is the navy blue underneath, plus the raindrop crystal!"
Each sparkling stone added a touch of luster to Lively's rich scarlet gown, and I haven't seen a more masterfully paired mani in years.
And from a brand you can score at the drugstore? Now that's heavenly.