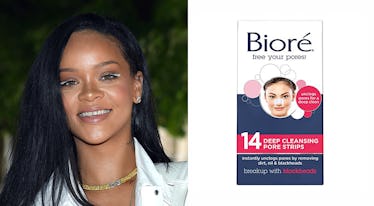 Rihanna's Makeup Artist Uses This Drugstore Staple To Maintain RiRi's Stunning Complexion
Pascal Le Segretain/Getty Images Entertainment/Getty Images; Bioré
When Rihanna's makeup artist gives advice regarding anything beauty-related, I listen. So when I found out that Priscilla Ono's fave drugstore skincare product would only cost me about $8, it's safe to say I was over the moon. If it's good enough for the Global Makeup Artist at Fenty Beauty, and possibly for Riri herself, it's most certainly good enough for me — and you, too, I'm guessing.
There was a time when many assumed celebs only used the priciest, most luxurious of products, simply because of their status. Now, as professional makeup artists like Ono become celebrities in their own right, they're spilling all the deets and confirming my wildest hope: Celebs, just like us, occasionally opt for drugstore beauty and skincare. I mean, c'mon, you're telling me Rihanna is strong enough to resist a stroll down the ever-so-tempting CVS beauty aisle? If she is, then that's just one more difference between myself and Rihanna, but I digress. The point is, the wildly talented Priscilla Ono, makeup artist extraordinaire, is in fact pro-drugstore skincare shopping, and she shared her all-time fave product in an interview with Refinery29.
"If you have a good canvas, your makeup's always going to be bomb," Ono told Refinery29. "My approach is to keep it as simple as possible." Considering both RiRi and Ono herself have stunning skin, I'd say this is pretty sound advice.
I mean, have you seen how smooth and radiant Ono's skin looks in, like, every selfie?
And have you seen Rihanna's perfected glow in just about every photo of her ever taken? I rest my case.
So, what's the secret behind these two stunning complexions? Ono said that it's all about clean, well-cared for pores.
"I will always carry Bioré Pore Strips ($8, amazon.com)," Ono says. "Whether it's blackheads or just pore junk, it's glaring and you can always see it under makeup if it's a photoshoot or red carpet."
Pore strips are a safe, easy way to extract gunk from your skin, and they're both affordable and easy to find at almost any drugstore. Plus, Ono isn't the only celeb who's a fan. Please allow me to remind you of Chrissy Teigen's full-length feature film (OK, it was a lengthy series of Instagram Stories posts, but it was a lot) on the very topical subject of how much she loves seeing all the whoknowswhat the pore strips pull out of her skin.
"I like to pull these off, slowly, and then tilt them towards the light so I can see each little mountain, each tiny mountain," Teigen said in her Instagram Story.
Girl, I can relate — and apparently, so can Ono, and possibly RiRi.
Chrissy, Priscilla, RiRi, (me)... is it safe to say that pore strips are 2018's cool-girl skincare product? They definitely help achieve that undeniably cool level of healthy skin, so I'm leaning toward yes. Ono also told Refinery29 of another drugstore fave for making sure that skin doesn't look congested: the Bioderma Micellar Water ($11, amazon.com). "Having dead skin or blackheads, that's always going to show on camera," Ono says is apparently a big ono-no. (See what I did there?)
Suddenly, I'm itching for a must-needed trip to the drugstore to stock up on these Ono-approved faves. She obviously knows a thing or two about maintaining great skin, and like I said, if it's good enough for Rihanna, it's good enough for me.