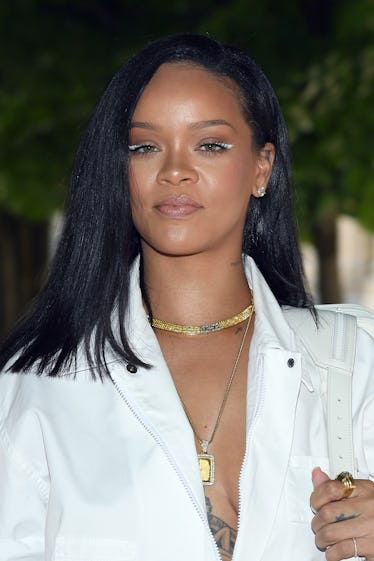 Rihanna Helped Her Makeup Artist Get Her Lost Luggage Back, Because She's The Truest Friend
Pascal Le Segretain/Getty Images Entertainment/Getty Images
Last week, it looks like Mercury retrograde reared its ugly head for one of Rihanna's Fenty Beauty makeup artist, Priscilla Ono, when an airline lost her makeup kit after a flight. While losing and then tracking down misplaced luggage is enough to ruin anyone's day, losing an entire makeup kit sounds like a makeup artist's worst nightmare. But having a client (and friend) with clout like Rihanna paid off when it came to speeding things along with the airline. That's right, Rihanna helped her makeup artist retrieve her lost makeup after KLM Royal Dutch Airlines lost not one, but two of Ono's suitcases packed with all of her tools, brushes, and makeup (and if I had to guess, a lot of Fenty Beauty products.)
According to an Instagram from Ono, after filing a report, spending 40 minutes on hold on the phone, and then being hung up on, the MUA did what anyone with almost 600,000 followers would do: She asked her Instagram followers for help in blowing up KLM's notifications in an attempt to track down her belongings. "Please if you know anyone at @klm Please tag them I need help trying to located these 2 luggages that are my life!! Also please help me by going to there last post and tagging me🙏🏼 xx," the artist wrote in the caption of her post.
While thousands of followers left over 5,000 comments on the airline's most recent post at the time, as well as over 3,000 comments on Ono' post, the most influential of the bunch came from RiRi herself. "Got you sis," Rihanna commented on Ono's post, later addressing KLM on their Instagram saying, "Sorry @KLM but my makeup artist @priscillaono traveled with your airline and has yet to receive or hear anything about her missing luggage from your company! I'm asking cause we have a big production starting tomorrow and maybe some help from you would be nice, as her work kit went missing on her flight with you! Thank you! DM @priscillaono with any information as soon as possible thanks!" So polite!
Well, the input from Rihanna was clearly enough to prompt the airline to get to work ASAP. Not long after Rihanna stepped in, KLM left a comment on their own post stating, "We are in contact with @priscillaono We have her bags and they are being send by special delivery and should arrive any moment." Boom, mission accomplished. I guess it really pays off to have a good friend like Rihanna.
Ono recently revealed in an interview with British Vogue that her relationship with Rihanna stems back to 2011, but that she only started working professionally with the singer about a year ago, when she became Fenty Beauty's Global Makeup Artist. "I heard she was developing a make-up line, I hit her up and was like: if you ever need any help, let me know. And she said actually we are looking for a global make-up artist, I tried out and I got the job. It was a year ago and it's been great!" Ono shared with the publication.
The moral of the story? Get you a boss, friend, and someone on your team like Rihanna.